'Top Gear' (UK) Recap: 'Series 19, Episode 5'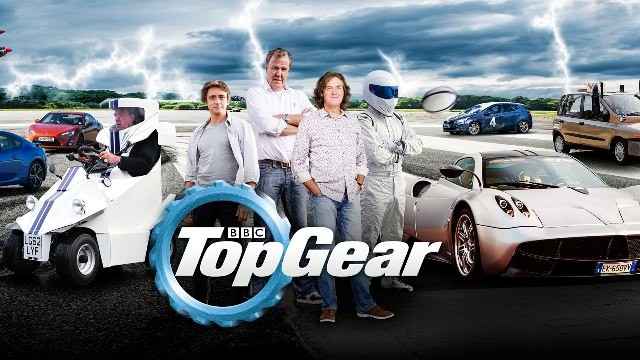 Tonight, on Top Gear: Jeremy Clarkson holds up a jar, James May points at a hill and Richard Hammond eats a sandwich. Cracking stuff, this. But watch out for the big, loud, bewildering (in other words, very Jeremy) twist at the end.
The show opens with "a big and important issue," at least according to Jeremy. He tells us that the roads are full of old people, but that cars aren't really friendly for the elderly, and Richard chimes in that they decided to go out, buy a car, and modify it for that purpose. We're off to the Top Gear Technology Center, where the twosome have a Fiat and sit in a throwback 'mood room' to figure out what to do with it. "It really is just like being in James May's front room," Richard comments, to which Jeremy replies, "Well, where do you think we got everything from?"
After several hours of deliberation (allegedly), they decide the car should be hearing-aid beige, fetch some paint and start to work on their modifications. Jeremy has his own drawer full of hammers and promptly hurts himself using one altering the dashboard. Richard decides they ought to remove the airbags, but can't figure out how to get them out, leading to an overdramatic sequence of wire-snipping. The new speedometer only displays up to 20 MPH. The new rear seats are armchairs. And there's a cat carrier on the roof.
While your brain processes all that, the show moves on to The News. They start talking about Volkswagens, then move on to Minis ("Not another one," remarks Jeremy), mock ugly radiator grills, and think Gloria is a more appropriate name for a receptionist than it is for an Alfa Romeo. Then Jeremy reveals that, given their success with Car Rugby, he and James decided to try and play Car Tennis. Mildly amusing film follows.
James then introduces a piece about the new Range Rover, which has a more minimalist dashboard, extra legroom than its predecessors, and a decent ride, but also a hefty price tag attached. He elects to take it out of London and to the Nevada Automotive Test Center ("in Nevada"), where he compares it to an imposing driverless truck, setting up a race between the two vehicles. The truck sets off before Challenge Man can even wave the start flag, but at the finish line, the Rover comes out the winner. Still, Jeremy thinks the idea of a driverless car for the average person is "utterly pointless."