'Top Gear' (UK) Recap: 'Series 19, Episode 2'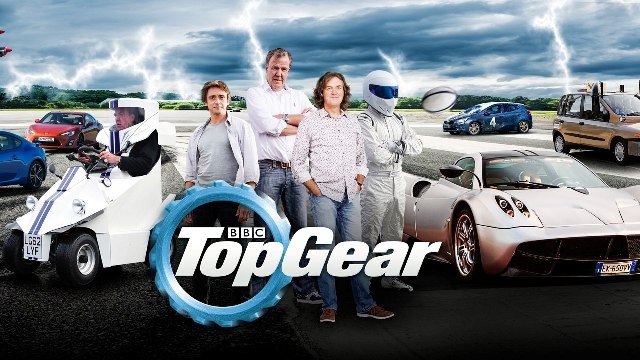 Tonight, on Top Gear: Jeremy Clarkson points at a thing, Richard Hammond walks through a shop, and James May has some bananas. And they're all making another ill-advised trip to the United States, courtesy of "secret American" Richard.
They meet in Nevada, where they compare supercars. Jeremy brings the Lexus LFA, with James driving the Aston Martin Vanquish (which Jeremy promptly drools over), and Richard the SRT Viper. There's the usual banter over whose is better before Jeremy suggests they shut up and go for a drive. Unfortunately, they end up on a road where the speed limit is 35 MPH. Some "trickery in the edit" later, things finally start moving a bit faster. The trio head for the Las Vegas Motor Speedway, where the plan is to make use of the drag strip, since near every episode of Top Gear involves a drag race.
Jeremy is humiliated by a pickup truck from the Sheriff's Department, Richard is schooled by the Highway Patrol, and James gets beaten by a kid in a Mitsubishi. It only gets worse from there. "Having spent the entire evening losing to absolutely everything, we decided we didn't like drag racing," Jeremy narrates.
That's as good a time as any to break for The News. Jeremy's had another theory about the lack of parking in town centers; he suggests the abolishment of double yellow lines and traffic wardens alike. He then discusses how awkward it is when one stars to nod off while James is talking. He's got a device that helps with that - an earpiece that beeps to keep a driver awake.
Richard calls James and Jeremy "the oldest people in the world," leading James to tell him, "We can't all be 36 forever." The boys then discuss how Citroen has come up with a car that runs on compressed air. Jeremy tries to figure this out using a rolling chair and a fire extinguisher. Unsurprisingly, it doesn't work.
With that, it's back to the film. Morning has broken over Las Vegas, and the guys decide that they're going to speed down the Las Vegas Strip. Jeremy is forced to admit that his car lacks several things, including cupholders, even though it has the biggest price tag. Of course, he then must get even. When they stop at a gas station on their way to California, he irritates Richard by trying to put a firelog in his gas tank, so Richard retaliates by creating a cupholder for Jeremy - by taping his coffee cup to his steering wheel.
Their destination is the Willow Springs International Motorsports Park, but Jeremy makes them take a detour to a grooved road that allows cars to be used as instruments. James, being the music nerd and pianist that he is, loves this.
Once the trio finally get to the raceway, they're met by Challenge Man, who tells them that they'll be playing a version of laser tag. They're tasked with driving laps of the track while planes shoot at them, hoping to trigger the sensors on their cars. "We did what we do best - panic," Jeremy says over footage of him driving the wrong way on the track. James wins this challenge by virtue of being popped only 17 times to Richard's 23 and Jeremy's 48. Jeremy claims it's racism because his car is Japanese.