'Top Gear' (UK) Recap: 'Series 19, Episode 1'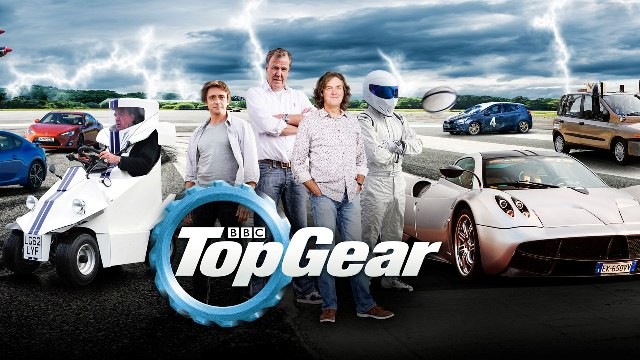 Now it's time for the world's most-watched factual TV show. That's right, it's Top Gear, which has graced us with new episodes on Mondays just two weeks after its US counterpart returned on Tuesdays. It's double the mayhem with two shows on two nights. You're welcome, America.
Tonight, Jeremy Clarkson introduces the premiere with the usual montage previewing the rest of the series, which you can see at the end of this article if you missed it, and which includes the also usual explosions, infighting and high-speed manuevers. He's then joined by co-presenters Richard Hammond and James May, the latter of whom has just turned 50, which Jeremy is not impressed with. "All he had to do to get to 50 is not die," he gripes.
Richard introduces the first film of the season, where he's evaluating the Pagani Huayra. The car's body is made from carbotanium - a blend of carbon fiber and titanium - and it's got an impressive amount of horsepower. It has a power-to-weight ratio better than that of a Bugatti Veyron. Richard declares himself "in love" with the Huayra, which he pronounces an improvement over his beloved Pagani Zonda.
Obviously, we must then find out how fast it goes around the Top Gear track. The Stig, who's "become obsessed with national anthems" since the Olympics, clocks in at 1:13.8, making the Huayra the fastest car ever to have done a lap at Dunsfold. Oh, and Jeremy professes his love for consonants.
And now, The News, so James can celebrate the Dacia Sandero for all of 30 seconds before Jeremy cuts him off. Richard then gives a dramatic reading of a children's book about tractors, which gets really uncomfortable. He then gives an update on the Race2Recovery team, the war amputees we met in series 17, telling us that they completed the incredibly difficult Dakar Rally, Congratulations, chaps!
James narrates a film about the new Bentley Continental GT Speed, not to be confused with the GTC, GT Speed, GTZ, or GTC Speed. To put the Bentley through its paces, Captain Slow takes it to a Welsh stage of the World Rally Championship, and gives the keys to racing driver Kris Meeke. Their job is to beat an actual rally car. Unfortunately for Kris, he has to rely on James to give him directions. This is the man who once got lost on an oval. Good luck, Kris.