'Top Gear' (UK) Recap: Buses Are Not Cars, James May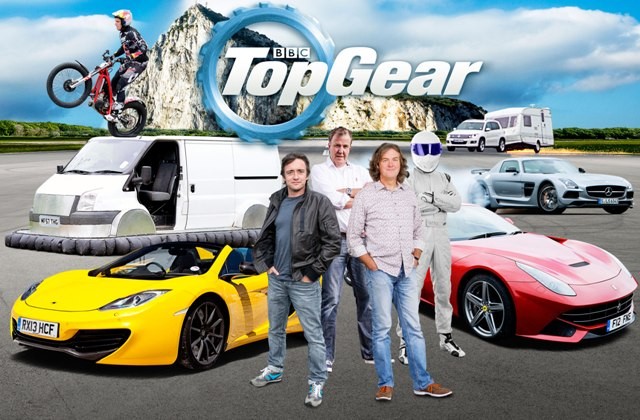 Sadly, it's that time again - the time when we must say goodbye to Jeremy Clarkson, Richard Hammond and James May for another series. Tonight, Jeremy points at some fields, Richard minces round a corner, and James describes his ideal night in, which sounds horrendous.
The guys open the show with Richard's review of the second-generation Range Rover Sport. First, he gets back behind the wheel of the first-generation version, which he says is only bought by footballers and people married to them. Having gotten that out of the way, he picks up the keys to its successor, which he immediately takes somewhere entirely different: off-road. Its next stop is Donington Park Racetrack (yes, that place that the presenters laughed at for being sponsored by Simply Sausages two series ago), where it sets a lap time that beats that of a Mini Cooper by less than a second.
Richard is enthused because finally Range Rover have made a proper "sport" vehicle, but Jeremy, ever the agitator, notes that it is smaller and insists everything is better when it's bigger, at least until his co-presenter points out that's not true when it's a bruise or an unexpected bill.
It's time to do the News, and for James to complain about Highways Agency Traffic Officers blocking off roads for minor accidents. The guys think you shouldn't be closing roads for anything less than something "apocalyptic" or where you're looking for someone's head. They're also not happy with the new Royal Mail stamps featuring classic British cars, because they'd prefer vehicles other than an MG, a Ford Anglia and a Morris Minor Van.
Griping aside, the presenters revisit their old idea of relaxing parking restrictions in town centers when jeremy announces someone in power agrees with them: Secretary of State for Communities and Local Government Eric Pickles. Richard is disappointed that it's not Darth Vader. Jeremy campaigns to get Pickles on Top Gear, but mostly because he wants to see what his face will do at high speeds around the track.
James is in charge of the next film, unveiling the "rather unimaginatively" named New Bus For London, wondering if it could be used as a private car, considering that it's about the same price as it would cost you to buy a supercar with a mere two seats. However, his test drive is disastrous from the beginning. He has difficulty starting the bus, avoiding low-hanging trees, and not striking other cars or meddlesome pedestrians. The bus is also ridiculous on a track day, although James does manage to cut off a Porsche and spin out an Aston Martin. "There are a few drawbacks," James concedes, but still believes the NBFL would "make a super car," which prompts Richard to question his sanity.