'Top Gear' Recap: 'Series 19, Episode 4'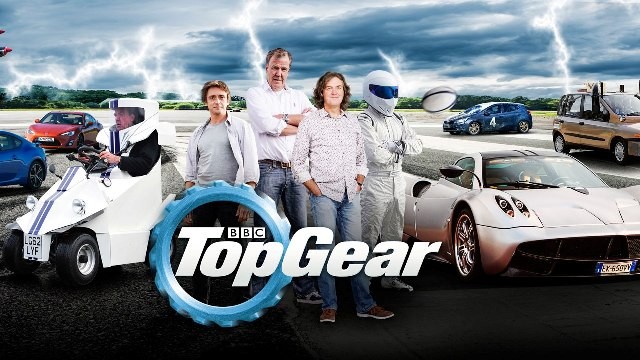 Tonight on Top Gear, James May draws on a board (that says "Kill Clarkson" on it), Richard Hammond waves at a man, and Jeremy Clarkson runs away from a table.
Jeremy opens the show with his uber-skeptical review of the new Vauxhall Astra VXR, which he actually likes, much to his surprise. He thinks Vauxhall spent more time on the front end of this car than they did on the whole of the Vectra, and thinks the ride is comfortable as long as you don't push the "sport" button. To compare, he then moves to some other options: the Ford Focus XT, which is cheaper, but not as nice to drive and has "a particularly unpleasant interior," and the Renault Megane 265, described as "sublime" and "an amazing combination of nimbleness and brute force" yet "not the nicest to live with on a day-to-day basis."
A drag race is staged, of course, and the Ford comes first, followed by the Vauxhall and Jeremy shouting in the Renault. Even so, Jeremy can't bring himself to admit that the Vauxhall is the best option, with the camera conveniently breaking before the end of the film.
The Stig ("Some say he contains 47 percent horse...") does laps in all three hatchbacks, with the Vauxhall clocking in at 1:28.3, the Ford at 1:29.6, and the Renault doing 1:27.7. After all that, Jeremy recommends you buy a Toyota.
The News is next, with Richard talking about the new Alfa Romeo 4C, which James thinks doesn't look quite right. Jeremy wants to discuss the Ford Mustang he drove in the previous episode, and how disappointed he is that the next generation of Mustang will be sold in the UK, but only with a two-liter EcoBoost engine. He then goes on to rant about handbrake turns, which Richard thinks are "an essential part of male development," and the trio of hosts reminisce about their younger selves and failed attempts at that particular maneuver. Moving on...there's a Peugeot with parts made out of copper and recycled newspaper.
Jeremy announces there's a new version of the Kia Cee'd, and since Top Gear uses the Cee'd as its "Reasonably Priced Car," he decides this development is worthy of further investigation. He brings Episodes star Matt LeBlanc back to do laps in both the old and new models (the new one is faster), decides to test out the auto-parking system while blindfolded, finds out that you can plug a guitar into it thanks to Eric Clapton, and does a crazy test with sodium and water that results in nothing but some gratuitous explosions. Then there's a random - and utterly unenthused - cameo by Bruce Willis, as his Die Hard franchise character John McClane, just to test the horn. After all this nonsense, the Cee'd gets the Top Gear seal of approval.