'Top Gear': Checking In With Adam Ferrara And Tanner Foust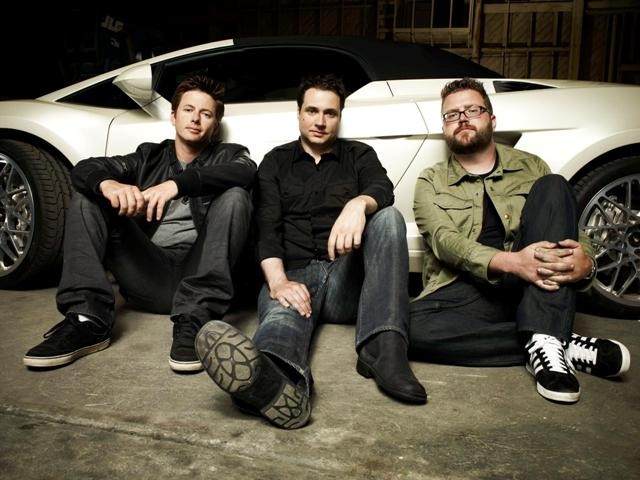 The fourth season of Top Gear just came roaring back, and already Adam Ferrara and Tanner Foust can't stop talking about it. We checked in with two-thirds of the TG hosting trio when they attended last week's E3 Expo (Rutledge Wood being on the road and unable to join us). Here are a few things Adam and Tanner spilled about what it takes to make Top Gear.
Firstly, tonight's episode is going to be an interesting one (as if they're ever not). "There are some stunts in this next episode," Tanner told us.
"There's the ones we know about and the ones that just happen," Adam corrected.
"Yeah," Tanner agreed. "Like you know you're going off-road, but sometimes you don't know you're going upside down, for example."
"I've come to figure out when I'm upside down," quipped Adam. "It takes me two or three laps."
"When you let the seat belt out and you hit the roof," Tanner added, "then you're upside down."
Last time we talked to Rut, he told us that he occasionally has to make calls to his life insurance provider in order to make sure that he's got coverage for whatever crazy thing the show has him doing. Do Adam and Tanner have the same worry?
"I've just got to worry about my wife when I come home," Adam said, "because I don't tell her what we do and she'll see the episodes. We watched ['Desert Trailblazing'] last night, and she saw when you [Tanner] were coming down the hill with the Range Rover. [She's like] 'I don't like this.'"
"'Tanner wasn't really concerned about me rolling over. He was just pretending,'" quipped his co-star. "No, I'm like screaming at the top of my lungs."
Speaking of rolling over, Tanner did exactly that during the Rallycross portion of X Games Austin earlier this month. But both the guys assured us that the crash looked a lot worse than it was. "I've seen him roll harder than that at lunch," Adam scoffed. "He's fine."
"It was a gentle roll, it really was," Tanner added. "I was ready to go back in that race, actually, but they wouldn't let me back in."
Much less hazardous to anyone's health was the previously teased trip to Europe, which is also the first time that our American Top Gear team has filmed an episode overseas. We asked the guys how that panned out for them.
"It was great," Adam enthused. "I've never been to Germany and not only to go, but to go in style and get to drive the cars we got to drive and do the things we did...I did 180 on the Autobahn. And the only thing I heard was him in my head going 'Slow down!'
"It's funny, because all the stuff he tells you, you hear it in your head as you're doing it. You're doing 90 miles an hour, but you still hear it.
"But the Germany trip was really great," he continued. "I drove a brand new Lamborghini, the Huracan, it was great. We went on the Autobahn and we got to drive on the Nurburgring."
"Nurburgring was spectacular," Tanner agreed. "I've been there three times; it was the only time when it was like nice weather."
"Yeah, it was really, really beautiful," Adam said. "That was a really, really cool trip."
You'll get to see Top Gear's European adventure later in the season. Yet we're only two episodes in and we've already seen the guys break parts off vehicles, have to contend with electroshock devices attached to their steering wheels, and fend off thousands of flies.
The job requirements for this show seem to involve a certain amount of fearlessness (or at least, pain and suffering). At any point, do Adam and Tanner have the chance to say 'I don't think so,' or are they fully committed?
"It's always after we do something, we go 'I shouldn't have,'" Adam told us. "So it's not really 'I don't think so,' it's more like 'I shouldn't have.'"
Another new episode of Top Gear airs tonight at 9 PM ET/PT on History; we'll have our recap for you after the installment airs. Be sure to follow Adam and Tanner on Twitter (@AdamFerrara and @TannerFoust respectively), and if you missed it, check out our exclusive interviews with all three hosts for more on season four.