'Top Gear' 17.05 'Bob Geldof' Review
Tonight on Top Gear, Jeremy Clarkson talks to a man in sunglasses, James May draws a square on a wall, and Richard Hammond plays with a soldier's chopper.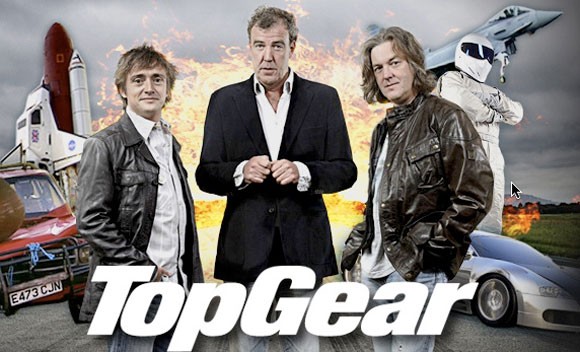 Firstly, our blustery leader wants to talk about the Jensen Interceptor, which he tells us was "built very badly by people who didn't seem to care what they were doing." It's back now with an updated version, and he seems much happier with the new one, minus some period features that he doesn't care for. The steering system, he says, might be from a lawnmower and requires a lot of "flailing at the wheel." That doesn't sound encouraging, does it? At least the classic radio looks great.
Check out the guys trying to re-enact a 1970's detective show now that they have a proper set of wheels for it. Richard karate-chops a valet and kicks a woman in the groin, Jeremy drives around with scantily clad ladies in the car, and James blows up a boat. It's cheesy and it's hilarious.
They're in a hurry to do the News segment so they're not cut off for a motorcycle race. James starts talking about the preflight checks for his airplane and Jeremy doesn't care. No one cares about the Aston Martin and Toyota collaboration. There's some bickering that starts when Clarkson wants to go back to last week's mention of the bird that ruined his car. Moving on...
Buying a Lotus T125 gets you a bonus entourage, including a former racing driver who will teach you how to properly handle the thing. Needless to say, Jeremy has to challenge the guy by testing out his teaching skills. Unfortunately, he can't even fit into the car without them taking the seat out. Once he finally gets in, he crawls off and does a track lap that terrifies him. To compare for the benefit of his addled brain, he brings out a BMW on the same track, talking about how he has to go faster in the Lotus than what he instinctually thinks is possible. Plus, he has a noise curfew to beat. Everything is worth it, though, because he beats the lap time set by the Stig in an Ariel Atom on the same track.
This week's Star In A Reasonably Priced Car is Jesus...no, wait, that's Bob Geldof, the musician and Nobel Peace Prize nominee. He does a 1:48.1, good enough for fourteenth place on the board, and elicits a great gem of a line from Jeremy about how he's well informed of the environment and he's still not interested in it.
Once Bob has come and gone, the boys break out construction equipment to help in some neighborhood demolition and end up nearly downing power lines instead. Unsatisfied, they decide to go find some ex-military wheels to get the job done. After James and Richard geek out over some used helicopters, Richard comes back with an armored recovery vehicle, James with a military tractor, and Jeremy with a mine clearer from the United Nations. "Princess Diana had one of these," he says to raucous laughter from his fellow presenters.
The guys' health and safety meeting consists of the phrase "Don't have an accident." So, of course, they have a pretty big one: Jeremy hits a water main. Hammond gets stuck inside one of the houses he's trying to demolish, and then James crashes into the corner of said house and causes it to collapse even further. The Hamster eventually escapes, but by then the guys are well behind, so Clarkson brings out some explosives - that only manage to blow the front door off one unit.
Desperate now, our trio just start crashing about. In the end, despite their many approaches, they still lose out to a team of professionals who have done the same thing much faster. Leave it to Jeremy to find a minor victory anyway: that he wasn't wearing a hard hat or a high-visibility jacket, yet he's still breathing. Take that, health and safety rules!
This is a pretty entertaining episode for Top Gear, between the uproarious fake detective show title sequence that shows just how cheesy and yet endearing some of those shows really were, and the complete mayhem of the demolition race. It's ironic that as much stuff as the trio of presenters manage to destroy unintentionally, that they can't win when the challenge is to do so intentionally. Yet that also makes it funnier. Jeremy getting cut off at show's end was a nice touch.
Next week is Top Gear's season finale, featuring the return of infamously sacked ex-Stig, Ben Collins. What have you thought of the season so far? Are you excited to see The Stig without his helmet? Sound off below.
(c)2011 Brittany Frederick/Digital Airwaves. All rights reserved.