'Top Gear' 17.03 'Sebastian Vettel' Review
Just because it's a holiday doesn't stop Top Gear! Tonight, Jeremy Clarkson talks to two old ladies, Richard Hammond makes a phone call, and James May sniffs his own armpit.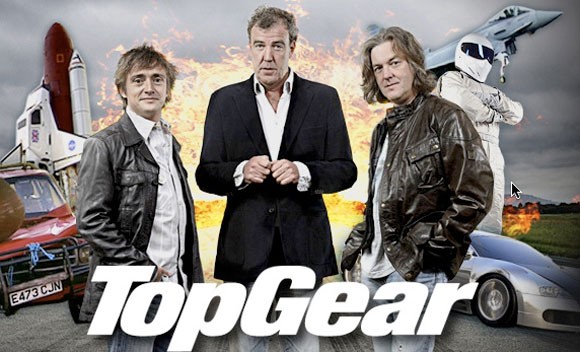 Jeremy quips that the new McLaren MP4-12C was named "after a fax machine" before he pits it against a Ferrari 458, and tells us that it's much better in many categories. He enjoys the McLaren's traction control, which "won't let you kill yourself," and a spoiler that raises when you do any hard braking "so you can't see what's about to crash into the back of you." Yet he also admits there's a "lack of joy" in the factory that can be felt behind the wheel, although his poor choice of parting words - comparing the car to hosiery - only serves to confound James. You know, like ovals seem to do.
We find out after the feature that the McLaren was developed on the TG test track, so the boys expect it to post a good time. The Stig, listening to Swedish supergroup ABBA in Spanish of all things, doesn't disappoint: he scores the second fastest lap on record at just over 1:16.
In the News, Jeremy fawns over a new BMW M5, but Richard doesn't want Facebook and Twitter access on his dashboard. This leads the boys to discuss if we get too much information while we're driving, from electronic sources in particular. Jeremy is not a fan, then goes on a rant about birds after he tells us that one hit his Range Rover in spectacular fashion - with visuals!
Speaking of Range Rovers, James comes stateside to test the new Evoke. It's an odd name, for certain. Then again, the car bears the fingerprint of Victoria Beckham, she formerly of the Spice Girls, so it wasn't about to be named Thor or anything. James's job is to take it from Death Valley to Las Vegas to pick up Cher. He fiddles with the car's "Terrain Response" system, sings along to "Believe," and unsurprisingly goes the wrong way. Luckily he has some friendly people in dune buggies to help him out and spray the car with sand while they're at it. He arrives in Vegas and at the Imperial Palace only to realize that his guest is not the music legend, but a male Cher impersonator named Steve. It's not surprising if you're a longtime watcher of Top Gear and are familiar with some of the jokes that have been made at James' expense, but the expression on his face makes it funny anyway.
This week's Star In A Reasonably Priced Car is Formula One racing driver Sebastian Vettel. He makes an old joke in Jeremy's direction, and Jeremy retaliates by showing a photo a picture of a seven-year-old Vettel meeting Michael Schumacher. We learn that Vettel is a Little Britain and Monty Python fan who likes to name his racing cars. He can do whatever he likes, though, as he takes the old Liana across the line in a record-setting 1:44.0, three-tenths of a second faster than previous F1 board leader Rubens Barrichello.
Next to be tested is the Nissan Pix0, which "comes with less equipment than a cave" according to Mr. Clarkson, but costs just shy of seven thousand pounds. As he grouses, Hammond rolls up in a previously owned Bentley Turbo R in the same price range. You can also get yourself a gently used Honda S2000, Mazda RX-8, or Subaru Impreza. There are plenty of better choices. Thus a challenge is set: who can buy the most impressive car for the same price as the Pix0?
Jeremy selects a 9-year-old Mercedes CL and Richard opts for an even older BMW 850 CI (with pop-up headlamps!). It's not a challenge unless there's a drag race; Jeremy wins, but Richard enjoys answering his phone call without having to get out of the car. The guys are horrified by the contents of their cars (predictably gross), but think they're still a better value than the Nissan. They so strongly believe this that they buy the cars themselves. An unimpressed James bets his hair that one or both will break down. I wonder if they'll hold him to that when they do the promised update.
This isn't Top Gear's best episode; while the interview with Vettel is good for a few laughs and there's a lot of quotable Clarkson, we've seen some of this stuff before, like going to Nevada (last time it was Reno), and the part where the guys get their used cars tested for contents only to be horrified by the results.  There's enough here to feel familiar even if the segments themselves are new. In contrast, last night's Top Gear US saw Tanner Foust try drifting with a city bus and Adam Ferrara manage to wreck a car that wasn't even real. If you made me pick between the two, for once, I'd give the edge to the American Top Gear.
Yet to be fair, when you have been doing a show for seventeen seasons, you are bound to repeat elements sometimes. Many scripted series can't come up with enough original ideas for a quarter of that. That in mind, I'll give Jeremy, Richard and James a pass, and hope that they come back at their caravan-exploding, Morris Marina-hating best next week.
(c)2011 Brittany Frederick/Digital Airwaves. All rights reserved.