'Top Gear' 17.01 'Alice Cooper' Review
The greatest car show the world has ever seen is back. Tonight, Richard Hammond buys a cup of coffee, James May slips on some snow, and we show a picture of Steve McQueen.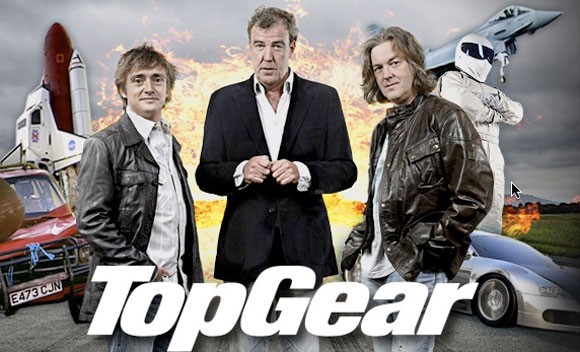 Top Gear's seventeenth-season premiere opens with Richard introducing us to a new car called the "Marauder" which makes the Hummer look infantile. It weighs ten tons, is nine feet tall and looks like a tank as it trudges through the streets of Johannesburg, South Africa - and it can be yours if you pony up 300,000 GBP and pass a background check(?!). What to do with this insane vehicle? The Hamster crashes through a few walls before announcing that it makes a fine town car. The fact that it can crush other cars in a supermarket parking lot makes it ideal for shopping. Unfortunately, it's lousy in the drive-thru.
James wears a hideous pink, blue and green plaid shirt as, in the news, we're introduced to a Mini coupe that, according to Jeremy, was styled like a baseball cap worn backwards. Huh?
Moving on, Jeremy talks up the BMW 1M. He's not fond of the orange paint job, but he likes how the car performs on the Top Gear test track, calling it "beautifully balanced" and a "tire-smoking mentalist." The best line of the segment, however, involves the words "like somebody gave you permission to set fire to Piers Morgan." Guess I shouldn't mention Top Gear on the America's Got Talent red carpet. Then he gets bleeped by the BBC again for renaming the Porsche Boxster (which I'm told is usual). The 1M does its lap on the track in 1:25 even.
Legendary rocker Alice Cooper is this week's Star In A Reasonably Priced Car. I once attempted to down a 22-inch hot dog known as the "Big Unit" at his Arizona restaurant Alice Cooperstown and lived to regret it. In addition to being a talented musician, Cooper is one funny man. Jeremy asks him if he really did rip a chicken apart at one show, and he cheekily replies, "No, that was Colonel Sanders." Later, he jokes that he replaced the rock 'n' roll lifestyle with "golf and cannibalism." Doing a very wet lap, he gets lost a few times before he clocks in at 1:56.3, which puts him near the bottom of the board.
James drives the rally version of a Mini Cooper, which sounds ridiculous but is actually not farfetched at all, as rally Minis had some success in the 1960's. Now there's a new "rally championship" Mini, which has about 300 horsepower and which James enjoys a lot more than the stripped-down Aston Martin he drove on the world's best road. Unfortunately for him, he doesn't get to drive it during a race between the car and an Olympic skeleton slider named Amy (call it the sequel to Hammond's car vs. bobsled duel from series eight). The car narrowly pulls out a win.
Once he's done chatting up Amy, Jeremy goes on a rant about neighborhood planning commissions and ugly cars. This is his lead-in to talking about the Jaguar E-Type. The McQueen photo comes up in a long list of images of E-Type owners. Our big, loud leader is curious about a new model based on the E-Type, called the Speedster. He enjoys that just as much, and is inspired to pull together a celebration that involves a band, a hot air balloon, and a flyover by a pair of biplanes. I don't think Jeremy Clarkson knows the phrase "low-key." Yet that's part of the fun.
Whether you love cars or just enjoy the madness, there's no other show on the airwaves that even comes close to Top Gear. It's easy to see why the show has lasted seventeen seasons long and captured the consciousness of the international public. It's the only place you could partake in property destruction, cannibalism jokes, and ugly shirts all in the same eighty minutes. It is truly unique.