'Top Gear' 16.01 'John Bishop' Review
The boys are back! After spending the winter months with the struggling American version of Top Gear, it's great to see the original series come back and show us how it's done. No offense to the US team, but the combination of Richard Hammond, Jeremy Clarkson and James May is simply perfect, and there's no one else like them.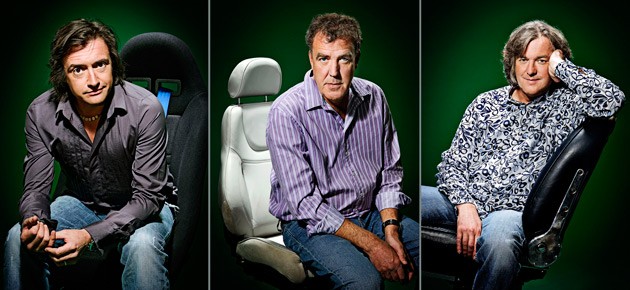 The Intro
"Tonight, a dog won't get in a car, a flip chart falls over, and a man from Liverpool drives a car." Jeremy Clarkson, vaguing it up for you.
The Features
James gets to test-drive the V8 Ariel Atom, gold paint job and all.  He tells us that it makes him look like "a spaniel with its head hanging out of the window," but that's probably because it's twice as powerful as a Bugatti Veyron or a Ferrari Enzo. He decides to pit it against a Lexus LFA and a Lamborghini Gallardo in a race from 0-180 and back again. This is almost a good idea except for the smoke that results from his sudden stop. Then the car races against a superbike champion and wins, except it doesn't really count because it's former Top Gear presenter Tiff Needell driving the Atom. The film crew aren't all that impressed since there's no radio, satnav or even a cupholder to be had for 150,000 GBP. Methinks they missed the point just a little bit.
This is the perfect opportunity for Jeremy to introduce Top Gear's new Stig (after Ben Collins was fired over plans to publish his autobiography and reveal himself as The Stig, thus annoying all of us who enjoyed the mystery and own "I Am The Stig"

T-shirts). The second White Stig takes the Atom around the track in 1:15:1.
Later on, Richard says that Jeremy "sticks his fingers in his ears and hums songs about Hitler" when he wants to discuss the Porsche 911, and that he's had enough. He has a little film about how a Porsche is not simply an overrated VW Beetle, setting a new Porsche Turbo convertible against a Beetle in a drag race. This is worth it if only because he compares Jeremy to an ape. Yet our crazy TG producers aren't satisfied, wanting to drop the Beetle from a helicopter and see if it beats the Porsche to a predetermined spot. Richard tries to explain the math of this, but the flip chart falls over before he can finish. Thankfully, Richard is not flattened by a falling Beetle, but it is fun to watch the older car not only beat him, but get smashed in the process.
During the News segment, we learn that Jeremy hates public transport ("buses are full of murderers") and thinks a way to combat to rising fuel prices is never braking.
The Challenge
The film this week is another of Jeremy's attempts to prove that he's right and everyone else is wrong. He baffles James and Richard by insisting that the best car in the world is the Skoda Yeti, with its "lots of exciting buttons." To prove his point, he compares it to a Maybach in a practicality test, and races it against a Ferrari driven by The Stig. You'd think that pitting a van against a Ferrari would be pretty one-sided, but the fact that the racetrack is being rebuilt as they're on it evens things out. It sounds ridiculous, but Jeremy actually wins. (We all know he'd be smoked if the track had been in one piece.)
His next test is to send a German Shepherd into the car, but the dog wants none of it, so he has to get a (much smaller) replacement dog. This is supposed to prove the car is durable, but since it really doesn't, he gets some firefighters to climb their way through the car in full gear.
As if that wasn't insane enough, he decides to take it off-roading while a guy gets a tattoo in the backseat. The poor subject ends up bleeding for it. "It sounds like we're filming an episode of 24 in here," Jeremy remarks when the situation gets even worse in another test vehicle. Plus, there's Sienna Miller hiding in the Yeti's glove box (allegedly).
Jeremy's still not done showing how many crazy things he can accomplish in the car. He decides to test the Yeti's air conditioning by driving into a burning building while holding an ice cream cone. Oh, and he lands a helicopter on the roof. Ladies and gentlemen, if you didn't know it before, Jeremy Clarkson is clearly mental.
Star In A Reasonably Priced Car
Comedian John Bishop is the guest this week. While he's not as funny as Michael McIntyre when he appeared on the show, we learn that Jeremy's kids are fans, but that he first thought that "a good-looking chap such as yourself tends not to be funny." Bishop fires right back by poking fun at Jeremy's wardrobe. The two then move on to talking about Russian cars and 1970's do-it-yourself people carriers (we call them minivans).  Somehow they get onto the subject of New Stig versus Old Stig, and Jeremy cheekily remarks that "we're not teaching this one to read or write." Touche, Mr. Clarkson.
Bishop sets a new track record at 1:42:8, beating the time set by Tom Cruise at the end of last season by almost two full seconds.
While we're on the subject of comedians, I'd love to see Dylan Moran appear on the show. I can only imagine that behind the wheel, he'd end up something like his character Bernard Black in Black Books.
Welcome back, Top Gear. We missed you.
For more Top Gear, check out the show category at my blog, DigitalAirwaves.net.