'Top Chef': Las Vegas Finale Part 2

Last night's finale capped off the best season in "
Top Chef
" history, and Michael Voltaggio reassured the audience of something it knew all along: he was the best of the best.
In the end, it was Bryan - the elder Voltaggio - not Kevin Gillespie who ended up giving Michael a run for his money. The final challenge: the three chefs were tasked with cooking a four-course meal, with each course having its own requirement.
Course one, which was a last-minute addition to the menu, was a starter that needed to be inspired by the contestants' mothers (a meal they remember from childhood); the second course was to be composed of ingredients from a mystery box; the third course was anything the chefs wanted; and the final course was dessert.
This was a different setup from past finales. Usually, the chefs are given two instructions: cook the meal of your life, and make sure there are four courses. The change in format appeared to be a way of making the final Elimination Challenge easier to judge. (Not "easier," per se, but at least there were guidelines to go by.)
When the critiquing of the final meal started at judges' table, it seemed as though Bryan had the upper hand. The judges preferred Brian's dishes in two of the courses (third course and dessert), Michael got the nod in the mystery-box course, and Kevin jumped out of the gates quickly with a superb first course.
After Bryan won 50 percent of the Elimination Challenge courses, the audience was bracing for an upset. Instead, the judges chose Michael's flair over Bryan's consistency.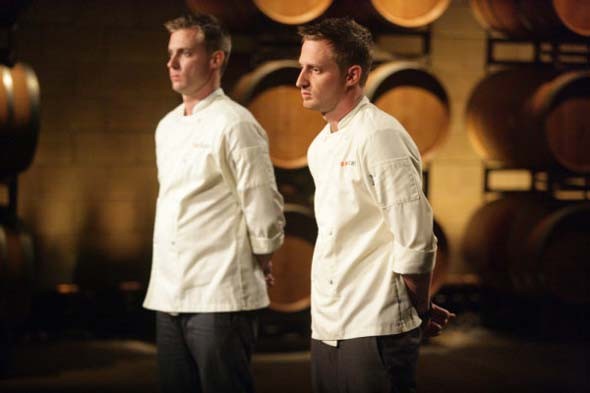 Image © BRAVO
Unfortunately, Kevin was a non-factor in the final judging. The so-called King of Pork fell flat on his face when his third course - a slow-roasted pork belly with a caramelized ham jus - failed to live up to high expectations. The nail in Kevin's coffin came in the form of an ill-conceived dessert: a roasted banana with bacon brittle, toasted peanuts, and bacon mousse.
What ultimately cost Bryan the title of "Top Chef" was his inability to go the extra mile, flavor-wise, with his food. He even admitted as much when the judges asked him why he should win. Bryan's first two courses were well done, no doubt about that, but almost every person who ate those dishes commented on their lack of flavor.
Taking a closer look at each course and where each chef ranked, it becomes clear why Bryan didn't come out on top.
First Course
1) Kevin, 2) Michael, 3) Bryan
Second Course
1) Michael, 2) Kevin, 3) Bryan (you could argue that Bryan's dish was better than Kevin's; I would say it's a moot point because they were both a lot worse than Michael's dish)
Third Course
1) Bryan, 2) Michael, 3) Kevin
Dessert
1) Bryan, 2) Michael (a close finish), 3) Kevin
If you assigned a point value to each course (first place = 3 points, second place = 2 points, third place = 1 point), the breakdown would be: Michael (9 points), Bryan (8 points), and Kevin (7 points).
In other words, Michael beating out Bryan shouldn't be all that surprising. Add in Michael's imagination and use of vibrant flavors, and it becomes clear that the judges got it right in one of the most difficult decisions in "Top Chef" history.
One thing is certain - I can't wait for the next season to start. "Top Chef" went to a whole new echelon in season 6, and it will be interesting to see what happens in season 7.
Story by
Phil McRae
Starpulse contributing writer
*Follow Phil's super-exciting tweets on Twitter!
http://twitter.com/philmc78