Top A&E Shows You Should Be Watching

A&E is a great channel to catch up on
The Sopranos
,
Third Watch
, and
CSI Miami
and to indulge in their reality show lineup. A&E's most popular reality shows include
Criss Angel Mindfreak
,
Dog The Bounty Hunter
, and
Gene Simmons Family Jewels
. There are a few others that you should be watching; here are the top picks.
Intervention, Mondays at 8:00 PM
Why it's great:
It's very inspiring and powerful yet makes you feel a little better about yourself, however wrong that may be! Family and friends of addicts unsuspectingly meet with a counselor and stage an intervention for the people in need. The addicts think they are being followed with cameras for a documentary and lots of times when they walk into the intervention room there is hell to pay. You never know what you're going to see on Intervention; whether it is a mom so drunk she's passed out on the lawn while her kids ride their bikes around her or a teenager addicted to huffing computer cleaner.

Cold Case Files, Fridays at 5:00 PM and 6:00 PM
Why it's great:
Detectives on this show uncover murders or other mysterious crimes that have gone unsolved for many years, sometimes even decades. The show is incredibly interesting and it's amazing how these cases can be solved so far after they occurred. "Episodes have been universally hailed by law enforcement agencies across the country and are regularly used as models for investigative technique in training seminars."
Flip This House: New Haven, Saturdays at 11:00 AM
Why it's great:
It's fascinating to watch an old rundown shack transformed into a beautiful house right before your eyes. And it helps that the realty team is adorable and has a great sense of humor. Paul Esajian is the construction expert and creative force behind all of their renovations. Paul joined the team and then persuaded his big brother, JD, to join as project manager.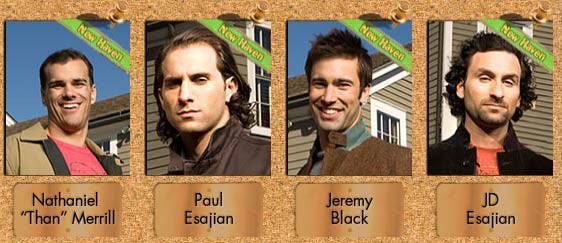 The New Haven team was not the first crew followed on the Flip This House series. Paul told us that the production company from A&E wanted a New England cast so they contacted a private money lender who got in touch with the boys at CT Homes. When asked if it was hard to work with his friends and brother, Paul said it is more comfortable working with people you know. His older brother JD Esajian and his friend since junior high school and co-creator of CT Homes, Than Merrill are also part of the cast. Paul said since they're all so passionate about what they are doing and have a great understanding of each other, their arguments, if any, don't last long around the office.
Why does Paul think Flip This House: New Haven is so appealing? "Home shows are interesting right now -taking a house in despair and turning it into something beautiful is interesting. We are so confident in what we do and have such a sense of humor that we are fun to watch! There has to be humor between friends and work and everyday we laugh at something. Aside from Flip This House: New Haven, the team is busy opening an office in San Diego, so they'll be rehabbing houses on both coasts. They also educate people on real estate formulas and how to be successful in the business. You can check them out at
www.fortunebuilders.com
and
www.thanandpaul.com
. What's Paul's favorite A&E show? Gene Simmons Family Jewels -"he's the ultimate flipper!"
Story by
Erin Demchak
Starpulse contributing writer