Top 5 To Watch This Week: 'Jay Leno,' 'Survivor: Samoa' & More

This week's Top 5 shows to watch list is full of finales, premieres and one show that may be a shock to readers for having made the list at all.
"
America's Got Talent
" - NBC, Monday Sept. 14 & Wednesday Sept. 16
This week is the big finale of this season of "America's Got Talent." Ten acts - The Texas Tenors, Grandma Lee, Kevin Skinner, Fab Five, The Voices of Glory, Hairo Torres, Recycled Percussion, Lawrence Beamen, Drew Stevyns and Barbara Padilla - will perform for viewers and voters one last time on Monday, and the winner will be announced on Wednesday. The winner will receive one million dollars.
"
The Jay Leno Show
" - NBC, Monday, Sept. 14
Jay Leno
is returning to television this week, this time moving up an hour and a half to a 10 o'clock prime time slot. The new show will feature favorite segments, like Headlines and Jaywalking, but will also feature new correspondents and new segments, such as celebrities racing electric cars around a track outside the studio. First up on the guest list is
Jerry Seinfeld
,
Rihanna
,
Jay-Z
and
Kanye West
.
"
Big Brother 11
" - CBS, Tuesday, Sept. 15
"Big Brother 11" is the second season finale of the week. After months of obsessing over who should win the $500,000 grand prize, the jury house members - Lydia, Jessie, Russell, Jeff, Michele and one other who hasn't been determined, yet - will decide who is worthy of winning. The three remaining house guests, Kevin, Natalie and Jordan, will compete in one last head of household competition before the final member of the jury house is determined based on the H.O.H's eviction and a winner is named.
"
The Beautiful Life
" - CW, Wednesday, Sept. 16
"The Beautiful Life" is a top show for the week really based on curiosity. This is a show that could be awful or amazing. There is no in between for this show, and critics are already marking it as DOA. The show stars
Sara Paxton
as the new it girl of modeling at New York Fashion Week and
Mischa Barton
as a veteran model who has been away for unknown reasons. "The Beautiful Life" is supposed to be an edgy and exciting looking in to the modeling industry. It is worth watching the first episode, but you will have to decide for yourself if it is worth setting your DVR for after that.
"
Survivor: Samoa
" - CBS, Thursday, Sept. 17
This season "Survivor" is bigger than ever. This season 20 castaways will be stranded on the island nation known as Samoa. The first task of the adventure will be splitting the teams in to two tribes, and after that, well, let the scheming, manipulating, lying and making of fake idols begin.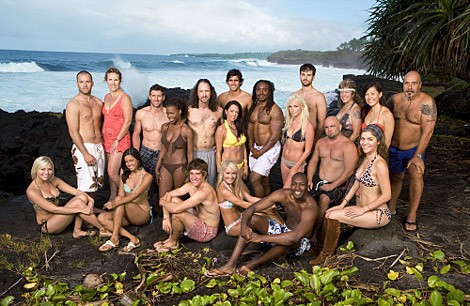 Image © CBS Broadcasting
Will you tune in to any of these shows this week? Let us know in the comments!
Story by
Amanda Hamilton
Starpulse contributing writer