Top 5 To Watch This Week: 'Dancing With The Stars,' 'NCIS: Los Angeles' & More

This week is going to be a great week of television. At least 20 shows are premiering, but we're not sure whether the returning shows or the new shows will cause more excitement.
The one thing we do know is that people will be talking!
"Dancing with the Stars" is back, and this season the show boasts to have its biggest stars yet. The season nine celebrities are
Aaron Carter
, Natalie Coughlin, Mark Decascos, Tom DeLay,
Macy Gray
, Ashley Hamilton,
Melissa Joan Hart
,
Kathy Ireland
, Michael Irvin,
Joanna Krupa
,
Chuck Liddell
,
Debi Mazar
,
Mya
,
Kelly Osbourne
,
Donny Osmond
and Louie Vito.
A lot of people think the crime drama is dead, especially since every time we turn around there is another spin off of "
CSI
" or "
Law & Order
" premiering, but "NCIS: Los Angeles" just might be the show to bring the crime drama back to life.
The show stars
LL Cool J
and
Chris O'Donnell
, agents in the Office of Special Projects. Cool J's character is an ex-Navy SEAL, and O'Donnell's character is a legend when it comes to undercover work. Together they'll be solving the toughest crimes in Los Angeles and, hopefully, giving viewers an intense and exciting look in to the world of undercover cops.
"The Good Wife" is making this week's Top 5 to Watch list because it is based on real life, and people love things based on real life. Anything that causes people to grab their computers and search through the World Wide Web to find out who a show is really based on has to be a winner.
Julianna Margulies
and
Chris Noth
star in this drama about a politician's wife who must rebuild her life when her husband is sent to prison. No word on who the show is based on, if it is even based on one single person, but it definitely drums up memories of past politicians who have been caught in sexual indiscretions and corruption scandals.
"
Mercy
" - NBC, Wednesday, Sept. 23
Several new medical dramas are premiering this fall, most of which focus on nurses, but "Mercy" seems poised to pull ahead of the rest in ratings. The show stars
Taylor Schilling
and
Jaime Lee Kirchner
as veteran nurses who are practically running the hospital they work at and
Michelle Trachtenberg
as the new girl in town.
Schilling and Kirchner's characters guide Trachtenberg through the ups and downs that come with being a nurse, along with dealing with their own personal issues.
I cannot wait for the season premiere of "Grey's Anatomy"! On last season's finale viewers were left hanging on the idea of Izzie and George possibly being dead (Izzie from cancer, George from being hit by a bus). Reports are claiming that Izzie will be back, sort of, but that George is no longer on the show. I'm really interested to see how the other residents will deal with his death and how they're going to have Izzie in the story line but not in the story line.
Other things to look forward to this season are Cristina and Owen's and Lexie and Mark's new relationships. Will these relationships last the season or fizzle out before we're even two episodes in?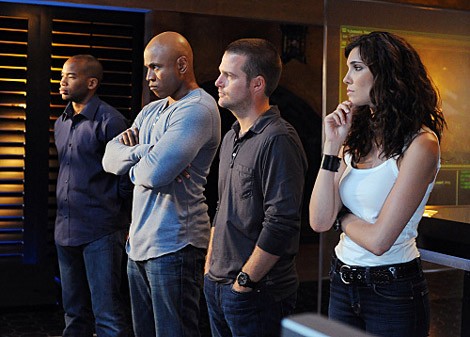 Image © CBS Broadcasting
Story by
Amanda Hamilton
Starpulse contributing writer