Top 5 To Watch, December 7-12, 2009

It's all about the holiday spirit this week with less than 20 days to go before Santa takes his famous flight, and FOX and ABC continuing to spread holiday cheer with two all new specials this week - "Carrie Underwood: An All-Star Holiday Special" aired Monday night and "Prep and Landing" is tonight.
"Prep and Landing"
- Tuesday, Dec. 8, 2009 - ABC
I cannot wait for "Prep and Landing." We've been seeing the commercial for so long, and those elves just look so adorable! The show is about a veteran elf and his new rookie partner who get caught in a horrible snow storm on Christmas Eve. This, of course, makes the journey that much more difficult for the elves but that much more hilarious for viewers. Lending their voices for this new Christmas romp are
Dave Foley
,
Sarah Chalke
and
Derek Richardson
.
"
The Biggest Loser
" - Tuesday, Dec. 8, 2009 - NBC
"The Biggest Loser" season eight will wrap up this week with a live finale revealing all of the weight losses of the season's contestants. Plus, viewers will find out who wins the grand prize and who wins the at-home prize. But before the big announcements, the final member of the final three will be revealed after America's Vote is counted. Viewers will also get to see what happened when the final three contestants went home. If this season is anything like previous seasons, the reveals are going to be outstanding and definitely worth watching.
"
Glee
" - Wednesday, Dec. 9, 2009 - FOX
The mid-season finale of "Glee" airs this week, and it is sure to leave a fantastic cliff hanger. Perhaps, the episode will cut before we learn who has won the sectionals competition that the club has been working toward. As much as I want to know if they've won or not, I think I could sit on it for a while. Also, what will happen with Will and his wife, Will and Emma and Emma and Ken? So many love triangles, yet so little time to resolve them.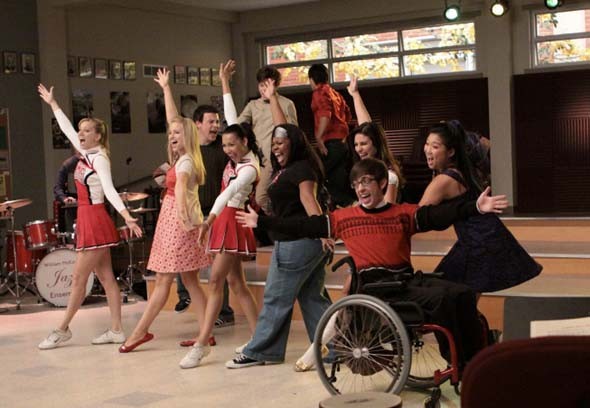 Image © Fox Broadcasting Co.
"
The 10 Most Fascinating People of 2009
" - Wednesday, Dec. 9, 2009 - ABC
Barbara Walters
returns for the 17th annual edition of "The 10 Most Fascinating People." This year ABC's choices range from a reality TV obsession to the children of a fallen pop icon to a football player who flip flops more than anyone can keep up with. I'm sure there will be some shock and outrage over a few of the choices, but if there wasn't then they probably shouldn't have made the list at all. The one I'm most surprised ABC has kept on the list is
Adam Lambert
. I really thought they would've nixed the idea, especially after they've cancelled all his recent ABC appearance and basically blacklisted the pop artist since his risqué American Music Awards performance in November.
"
Survivor: Samoa
" - Thursday, Dec. 10 - CBS
Two castaways will get the boot! CBS has confirmed to Zap2it that a twist will end up sending two contestants home in the episode titled "Damage Control". According to CBS, one castaway gives a shocking performance at Tribal Council.
Story by
Amanda Hamilton
Starpulse contributing writer