Top 5 To Watch: 'Dancing' Finale, Thanksgiving Parade & More

It's finally here dancing fans! The "
Dancing with the Stars
" season nine has finally arrived, and tonight viewers will get to see just who will take home the Mirror Ball trophy this time around. At this point it appears it is anyone's game, but no matter who wins, the long list of celebrities and musical guests planning on attending the finale is sure to make it a must watch for the week.
"Dancing with the Stars" - Tuesday, Nov. 24
It's unbelievable we've finally reached the point of picking a winner, but it is time. "Dancing with the Stars" will come to a close this week, and while all of the true fans will be tuning in on Monday for the performances, the second part of the finale will probably be the show most worth watching. Not only will
Donny Osmond
,
Kelly Osbourne
or
Mya
be awarded the Mirror Ball trophy, but there will be a ton of special guests. The biggest guest set to appear on the two-hour season finale -
Whitney Houston
, who will be performing two new songs! A few faces to look forward to are Matt Hoover and Suzy Preston from season two, Amy and Marty Wolff from season three and season winners Ali Vincent, Helen Phillips and Erik Chopin.
"The Biggest Loser: Where Are They Now?" - Wednesday, Nov. 25
Have you ever wondered what has happened to "The Biggest Loser" contestants after leaving the ranch? Well, this week NBC is going to let you in on how 40 contestants from the past seven seasons are holding up since being on the show. They'll tell us about their struggles with every day life, as well as the exciting moments they've had since we last saw them.
"Macy's Thanksgiving Day Parade" - Thursday, Nov. 26
I don't know what it is about the Macy's Thanksgiving Day Parade, but I cannot let a year go by without watching it. Honestly, it just doesn't feel like Thanksgiving if I have to miss it. It is one of those things that we on the east coast especially remember as children - waking up to the smell of turkey and the sight of the Radio City Rockettes parting the streets for the gigantic floats. This year the team at Macy's is putting on a great show for viewers. Musical guests Billy Currington, Boys Like Girls, Katharine McPhee and Gloria Gaynor are among the list of clowns, floats and balloons that will be marching down the New York streets. And, of course, the show wouldn't be complete without a visit from Santa Claus to kick off the Christmas season!
"A Charlie Brown Thanksgiving" - Thursday, Nov. 26
Since its premiere in 1973, millions of people have been spending their Thanksgiving evenings watching "A Charlie Brown Thanksgiving." The special is just one of the many Charlie Brown shows viewers look forward to every year. On the Thanksgiving special Charlie Brown finds himself in quick a pickle when his friends invite themselves over for a holiday feast. He and his family already had plans to go to his grandmother's house, so he must find a way to make both parties happy. Thus, the Thanksgiving made up of buttered toast, pretzel sticks, popcorn and jelly beans was born.
Thanksgiving marathons - Thursday, Nov. 26
Other than the travel that some of us have to endure, Thanksgiving is really an indoor holiday. Everyone hovers in the kitchen cooking for hours, and then chats around the dinner table for hours while eating and finally lie around on the sofa for hours while digesting. It is no surprise then that television marathons are huge on this day. This year the one I'm most likely to tune in for will be "
Home Alone
," which will play six times on FX, but I may pull myself away for a few other marathons, like "
Mythbusters
" on the Discovery Channel and "Cake Boss" on TLC. Although, and this will probably be a must for many families, it will be impossible to go the day without watching at least a little bit of "
The Brady Bunch
" marathon on TVLand. Check your local listings for times and channels of other marathons happening Thanksgiving day.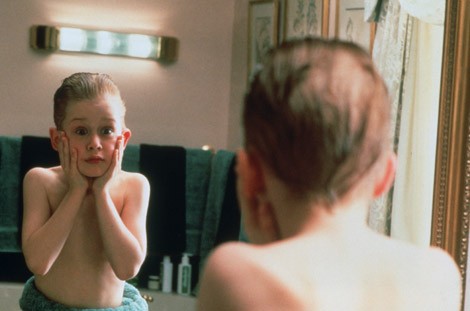 Image © 20th Century Fox Home Entertainment
Story by
Amanda Hamilton
Starpulse contributing writer