Top 5 To Watch: 'American Idol' Returns, 'Grey's Anatomy,' & More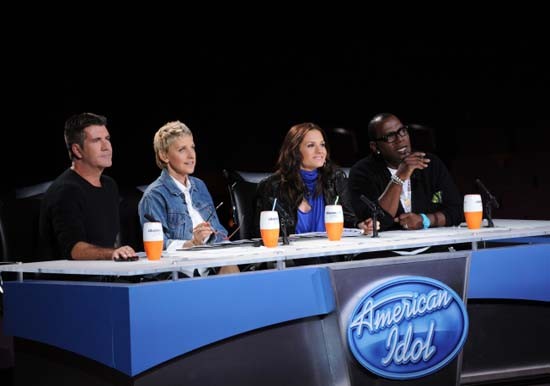 Get excited everyone because "
American Idol
" is back! Just when we were getting bored out of our minds because everything repeats during the holidays, the networks bring back one of our favorites, this time with a comedian/talk show host that might just shake up the judges' panel like never before.
"American Idol" - FOX, Tuesday/Wednesday, Jan. 12/13, 2010
Ellen DeGeneres, you're up! This week DeGeneres will take her first crack at the "American Idol" judges' panel when she joins Simon Cowell, Randy Jackson and Kara DioGuardi for the first round of auditions on the season nine premiere. The two-hour special is part one of the premiere and will showcase the best, and unfortunately worst, that Boston has to offer. Being from so close to Boston, I'm pretty sure I'm already going to be embarrassed. But, then again, it is the embarrassing acts that we like to see the most on the audition portion of the music search.
"The Biggest Loser" - NBC, Tuesday, Jan. 12, 2010
Last week was the premiere of "The Biggest Loser: Couples" (season nine), but this week the remaining players get serious and learn how in danger they really are. Each contestant will be evaluated by Dr. Huizenga to find out where they really stand. It is one of my favorite episodes because I think it shows people that even if someone isn't as overweight as a man who weighs 526 pounds doesn't mean they aren't in incredibly poor health. This is definitely an eye opener episode each season. Plus, I love when the doctor evaluates them at the end of the season to compare. It is usually a lot happier of a moment!
"Grey's Anatomy" - ABC, Thursday, Jan. 14, 2010
"Grey's Anatomy" returns this week from its holiday break with a crossover event. The event begins on "Grey's" with Mark's pregnant daughter needing an operation. This brings Addison back to Seattle and in to the picture. Elsewhere in the hospital, Owen questions Teddy's motives for letting Cristina lead a complicated surgery and crosses the line when it comes to getting involved with Cristina's surgical future.
"Private Practice" - ABC, Thursday, Jan. 14, 2010
Addison will return from Seattle with Mark and his pregnant daughter on her heels in the second half of the "Private Practice" crossover event with "Grey's Anatomy." And while Addison is trying to save the lives of Mark's daughter and grandchild, Naomi and Dell are creating a united front to help their daughters through tough times.
"Critics' Choice Movie Awards" - VH1, Friday, Jan. 15, 2010
Kristin Chenoweth
and
Nick Jonas
will rock VH1's Friday night this week with the airing of the 15th annual "Critics' Choice Movie Awards." Chenoweth will play as show's host, while Jonas and his new band, Nick Jonas and the Administration, play house band for the night. Categories up for the win include Best Picture, Best Actor, Best Actress, Best Song and Best Directing, and nominees include "
Avatar
,"
George Clooney
,
Julianne Moore
, "
The Hangover
" and "
(500) Days of Summer
." After seeing Chenoweth is several movies and singing her heart out on "Glee," I look forward to her opening monologue. If it is anything like her other pieces, it should be hilarious and full of song and dance. What an amazing voice that woman has!
Story by
Amanda Hamilton
Starpulse contributing writer