Top 5 Things 'The Shield' Needs to Deliver

On September 2nd, "
The Shield
" returned to FX for its seventh and final season. Since debuting in 2001, this gritty police drama has been exciting, witty, and jaw dropping. One of the very few programs that have not declined in quality during its series run, "The Shield" has enjoyed impeccable writing and brilliant acting by its ensemble cast.
Over the years however,"The Shield" has left viewers with more questions than answers. With the series getting ready to fold up shop in the next two months, here are five storylines that "The Shield" needs to resolve before the final curtain call.
1. Shane Gets his Comeuppance

After dropping a grenade in his "friends'" lap in an attempt to save himself from prison time, Shane eventually came clean with his crime to Vic. Though no doubt a heinous, selfish offense, it's evident that Vic has, over time, created a monster in Shane. With Vic's shady dealings and corrupt nature, Shane learned from the best. Nevertheless, Vic never wanted Lem six feet under. Time has now passed since that altering event, and Shane has informed the Armenian mob that he and the Strike Team robbed the money train back in season three. With this bit of information, a hit on Vic's family has been green lit. Vic now has to reluctantly work with Shane to protect both his job and his family's security. There's no question that an explosive finale to this storyline will be needed to satisfy viewers' appetite.
2. Dutch Wagenbach's Finale

Dutch is arguably the most intricate character on the show. At times he's easy to read; other times he can leave one wondering what truly is floating through his mind. But Dutch is a multi-faceted character. There's no question that he has a crush on the new female Officer Tina Hanlon. When Dutch went to see her at her home, however, he saw her having sex with former Detective Kevin Hiatt through the first floor window. The season ended last year with Dutch having a brief kiss with fellow Officer Danny Sofer. But that's not what makes Dutch truly interesting. From the swirling implications that he was involved with child pornography on a MIA laptop to his infamous strangling of a stray cat, "Dutch Boy" is reminiscent of the quiet kid in high school. He's awkward yet hopeful; he's shy and yet full of angst.
3. Resolve Threads Regarding Secondary Characters

"The Shield" used to be great at giving screen time and depth to its secondary characters. Early in the show's run, the relationship of partners Danny and Julian was fascinating to watch. Unfortunately, many characters got pushed to the side as the years passed. A few years back, Julien's homosexuality was exposed and officers at "The Barn" didn't like it. Julian was often harassed by his fellow boys in blue. Soon enough, Julien claimed he found God and was "cured." He eventually settled down with a wife and was enjoying family life. But nothing much came of that storyline. Did Julien ever relapse? Was he ever tempted?
Similarly, Claudette Wyms has been the moral compass of the series since the beginning. She knows Vic is often up to no good. She knows that former Police Chief David Aceveda is involved in sketchy plots to help expedite his political aspirations. Claudette was eventually promoted to Captain of The Barn and has attempted to clean up its image. It was discovered, however, that she has the disease Lupus. Mild references have been made to it at best, but it will be interesting to see how Claudette simultaneously manages the responsibility of her new job and the complexity of her new disease.
4. The Armenian Money Train
A significant storyline that has been an undercurrent for the show from seasons two through seven, this needs a conclusion. When Vic and The Strike Team decided to take that money, they knew they were playing with fire. As of now, a hit is out on Vic's family due to the knowledge of his involvement with the money train. At this point, it will be interesting to see how his decisions over the past few years will impact his immediate future. Can Vic Mackey get out of yet another jam? We'll have to watch and see.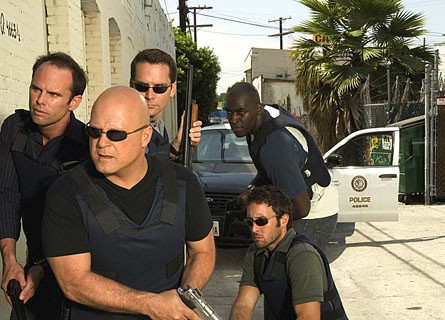 5. Vic Must Pay for his Sins
For many viewers, Vic is a pit bull-like anti-hero. Remember, though, that this is a man who shot a fellow cop in cold blood. This is a man who once put a gun in a girls mouth as a scare tactic. This is a man who covered up the brutal truth regarding the violence which befell fellow officer Tavon Garris. He's also the man who robbed the Armenian money train and has always blurred the line between good and evil on a consistent basis. Fans may not want to hear it, but by season's end, Vic's luck needs to run out. One may argue that the murder of his friend Lem, at the hands of a mutual friend in Shane, is karma. But while it can certainly be argued that Vic has made the streets safer, let's call it what it is: Vic is a dirty cop. He bends the truth and breaks the rules when it suits him best. He has told countless lies over the years; he has conveniently forgotten what's right and what's wrong. Come finale night in November, it all needs to catch up with him.
Who We'd Like to See Return
Anthony Anderson as Antwan Mitchell-Anderson gets a lot of flak for playing silly, over the top characters on the big screen. As Antwan Mitchell on "The Shield," however, he was chilling. A mean SOB who was cold and calculating, Mitchell was a quality foe that needs to make one last appearance.
Let us know your thoughts on 'The Shield'
Story by
Michael Langston Moore
Starpulse contributing writer