Top 5 Most Arresting Actors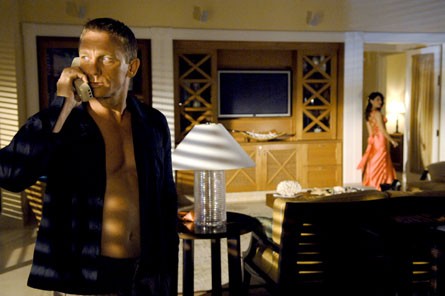 When you watch as much TV as I do, you're lucky to see a lot of great actors. But few are the ones who are so great that they make me stop and stare. They're the ones who have my undivided attention when they appear on screen. When they talk, I shut up and listen. They make my jaw drop, my heart break and my head spin. Here's a tribute to five actors who've made me say, "Why didn't I notice you sooner?"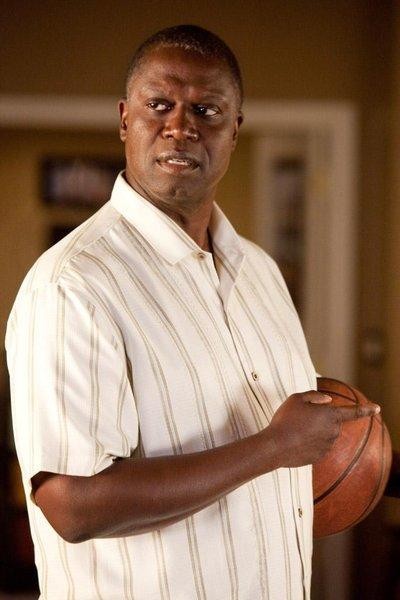 Andre Braugher, Men of a Certain Age
The Emmy winner and Golden Globe nominee was the first actor to ever catch my attention, when I became a fan of Homicide: Life on the Street in 1996. I was eleven, so I guess I'm off the hook somewhat, but I still feel like I should've been watching him all my life. For the last fifteen years, the mention of his name in a project has been enough to get me interested, because I have never seen him give a bad or even average performance, no matter what the material.
This is the man who defined the perfect interrogation scene; I'm convinced that it's in least in part to how great he was as Detective Frank Pembleton that interrogations are now a staple of crime dramas. He's played one of the top TV cops in the history of television. And even when he's not in a major role, I remember him; his two minutes, if that, on Miami Medical still stick in my head when I think of that now-cancelled show. He's just magnetic.
I feel very lucky that Andre does most of his work on television, because that means I get to watch him every week, and not just when the next feature comes out. I also have no shame in admitting that when he finally won an Emmy for his work on Homicide in 1998, I cried, because I was glad to see him finally recognized for such consistently outstanding work. (I have to wonder: would Thief - for which he won his second Emmy in 2006 - have lasted longer on FX if it was airing now, amongst that network's current crop of acclaimed dramas?)
When I started working as an entertainment journalist, one of my very first interviews was with Andre. After literally growing up watching him work, I was unsurprised that I tripped over my own tongue trying to talk to him. As long as I had been writing, I had been hoping to meet him. They don't make actors more memorable than that.
Jason Clarke, The Chicago Code
This January, after the Chicago Code panel at the Television Critics Association, I walked into Jason Clarke in the hallway. He was on the phone at the time, so we exchanged brief pleasantries and went our separate ways. Having found out just how he can burn up the screen this season, I'm wishing I had that moment to do over again. I certainly missed a chance when it comes to one of the most impressive actors I've seen in a long time.
Firstly, let's get the obvious out of the way: Clarke's Australian, but you wouldn't know by how well he pulls off an American accent. I can attest to this because after our brief meeting, the friend that I was with looked at me and said, "Wait, he's Australian?" Yes, he is. And a handsome one at that.
He's also an incredibly intense and thought-provoking actor, whose presence compels me to give him my undivided attention. He has that gravity about him, not only because standing next to him made me look waifish (and I wouldn't bet against him in a fight either), but because he has conviction. It's clear that he believes in his character, which in turn makes me believe in that character. He puts himself in each moment so completely that it's not surprising that his performances consistently compel reactions out of me more than any other actor. I've spent the last week and a half watching his brilliant performance as Tommy Caffee in Brotherhood and he's already made me cry twice in six episodes. I don't just mean sniffle, either. I was in tears.
This is to say nothing of his current work on The Chicago Code, which is so good that I'm pulling for his character every week, even though I know that he'll probably save the day. My investment into Jarek trumps even my cynical TV writer brain. And those times when I want to slap him, or when I'm talking back to him? Well, I wouldn't care that much if Clarke didn't give me someone to care about. In only half a season, I feel like I've known Jarek for years. I'm in awe that Clarke has brought the character to full, complete life in just mere episodes.
We hear all about how great of a cop Jarek is, and on most shows, that's hollow hyperbole that we're just supposed to accept as gospel. Yet on this show, I believe it, because the character and the actor have earned it. In turn, Jason Clarke has earned my appreciation, as I find myself impatiently waiting for him to get back on my TV.
I'm hoping that one of these days I'll get the chance to talk to him again. I sincerely regret that I didn't take advantage of being that close to someone this good. Next time, I'm not going to blow it.

Daniel Craig, the James Bond films
Daniel Craig is the definition of what this list is about. Up until Casino Royale (2006), I had never been all that interested in the Bond franchise. A good friend of mine called me out of the blue and told me to watch the latest one. "Are you kidding?" I said. "You know I hate those movies." She was insistent, however, telling me that she knew I would really enjoy it. I relented, rented the movie the following day, and after I picked my jaw up off the floor, I was never the same.
It's hard to pinpoint a moment or a role that sums up how impressed I am with his work. I just know that when I see him in something, I'm unable to take my eyes off of him. I was lucky enough to see him make his Broadway debut in A Steady Rain opposite Hugh Jackman, and I can say that I never looked away from the stage once through the duration. It was something special to be in the same room with two actors of that level, to feel their energy live and see them do what they do without the filters of film or television. They were captivating. Whatever he's doing, whether it's a Bond movie or a smaller project like Flashbacks of a Fool, I can't stop watching this man.
After Casino Royale, I was so impressed by what I had seen that I was watching his films two at a time. I now own everything that he has done that I can find. Needless to say, I was pretty chagrined that I hadn't heard of him before he was cast in the iconic Bond role.
And yes, that friend of mine has said "I told you so."
Being a lawyer on TV is a mixed bag; more often than not, courtroom scenes come off about as interesting as people reading the phone book. Not so when Ben Daniels became Senior Crown Prosecutor James Steel on ITV's Law & Order: UK. In a matter of a few episodes, he'd quickly become one of my favorite TV lawyers, not to mention the one I'd pick to represent me in the courtroom. I don't just enjoy watching him, I believe in him.
Why? It's obvious that Steel knows his stuff. He probably sleeps with a law dictionary. The man is a consummate professional who is undeterred when most would give up. He maintains his integrity even when it costs him. He doesn't even have to raise his voice to inspire fear in defendants. And that's all been conveyed beautifully in the performance of Ben Daniels, who makes playing London's top lawyer look effortless. It's because of him that I coined the phrase "graduate of the Ben Daniels School of Badass Lawyering." He sets the standard when it comes to TV lawyers in my book.
A good example of this is last week's LOUK episode, "Denial." There's very little for Steel to do; we don't get a conventional trial, and he has to perform his one major witness examination in a hospital room. Yet that doesn't change the level of Daniels' performance at all. He's still the best actor on the series. This is the same guy who can regularly break the claws out (see "Hounded") without even being ruffled. There are no theatrics; he just gives a consistently watchable performance week after week, which is a lot harder than giving one great performance and a few average ones. Ben's work is never average. I know that when I tune in each Friday, he's going to do something great, and I look forward to it.
I know I'm going to cry when Steel's last episode airs in just a few weeks. In part because he's a great character, but mostly because the man behind him is an astonishingly good actor, and I'll miss getting to see him on my television every Friday.
Justified has quickly become one of my favorite TV series of all time. While there are many reasons why, the primary one is the outstanding individual performance of Timothy Olyphant. He's so good that I'm still disgruntled that he didn't win an Emmy last season.
Olyphant has made Raylan Givens such a layered, watchable character. He has so many different sides to him that even in season two, I'm still trying to get a handle on who this guy is. I do know one thing for sure: I don't want to be on his bad side. One of the many things that Olyphant does right is create a sense of quiet malice - when Raylan tells you to get out of town, you'd better do it, because he will shoot you. He's a good guy with a bad streak, and Olyphant can do both in smart, subtle fashion. It's entirely because of him that I was watching Live Free or Die Hard and rooting for the bad guy.
He's also much more gifted comedically than I think he's been given credit for. Justified is as sharply funny as it is dramatically arresting, and a good deal of that is down to Olyphant's ability to deliver a perfectly snarky line with just the right timing. He can be hilarious - check out High Life or his recent guest stint on The Office, or just watch him any time he makes a late-night talk show appearance. That self-confidence and sharp sense of humor that Raylan has isn't acting; that's natural. He's just as interesting and watchable as any character he's ever played. You can't fake that kind of charisma. Olyphant has it and then some.
No one else could play Raylan Givens to me, because no one else has that mix of qualities that Tim Olyphant has. It's an absolutely perfect match of talented actor and complex character, and we get to enjoy the benefits every week. I'm running out of nice things to say about him. I guess the biggest compliment I have left to give is that I've crossed paths with him in person twice now, and both times I've been too intimidated to say anything. I'm in awe of what he can do.
These are five actors who will always have my attention. Who holds yours that well? Which actors or actresses are you wishing that you had discovered sooner?