Top 12 Memorable Moments From 'The Voice'
NBC's The Voice starts its highly-anticipated second season tonight. In its honor, here's a look back at the top 12 most memorable moments from the show so far!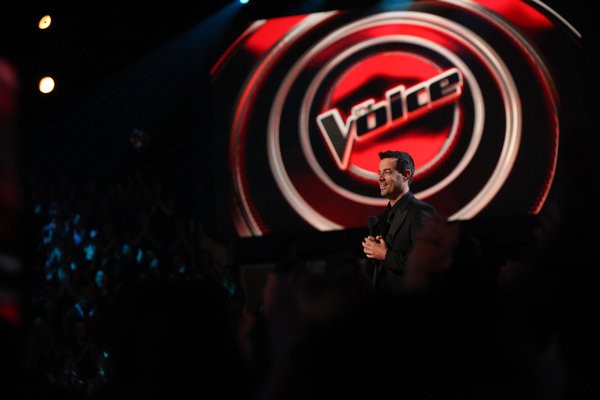 There were a lot of moments to love from season one. Each of the show's thirty-two artists had at least one instance where we took notice of them, whether it was Elenowen confusing coach Adam Levine by being more than one person, or Nakia bringing the house down with his rendition of "Whataya Want From Me."
And that was just the stuff you saw on TV. From the artists to the coaches to the crew, these were the best people I've ever had the pleasure of covering. Realistically, this list should be huge, because every artist deserves a place on it.
So although it wasn't easy, from beginning to end, here are my top 12 on-screen moments from season one of The Voice. Let me know what yours were in the comments!
1. The coaches perform Gnarls Barkley's "Crazy." The first moments of The Voice set the tone for the show. Here were four coaches who were still bonafide recording artists, reminding us why they deserved to be sitting in those big red chairs. They weren't going to just sit in judgment; they were going to get involved. Plus, the unlikely collaboration was surprisingly good. Who knew that Adam played the drums? Or that Blake Shelton and Cee Lo Green sounded so good together? As host Carson Daly said afterward, "That is how you do it."
2. Javier Colon's four-chair blind audition. Only two artists got all four coaches to want them on their team, and both were members of Team Adam: Javier and Jeff Jenkins. Both Javier and Jeff were great, but when Javier started singing his heartfelt version of Cyndi Lauper's "Time After Time," it was instantly clear that we were hearing something special. We knew it, and NBC knew it: Javier was in the commercials that were shown before the show even aired.
3. Adam Levine calls Tim Mahoney "a chick." The Maroon 5 front man was visibly surprised when he turned his chair around to find that Minnesota native Mahoney was of the male gender, admitting that the singer's unique voice made him believe that he was a she. Trying to apologize, Adam only managed to dig himself a bigger hole, but he took it on the chin, adding that he'd heard the same things about his own voice. Tim wasn't complaining - the quote helped raise his profile, and he'd later go on to write it into a song called (what else?) "Hey Adam Levine."
4. Rebecca Loebe & Devon Barley duet on Radiohead's "Creep." There were a lot of great pairings in the battle round, from Javier and Angela Wolff's so-cute-it-gave-us-sugar-shock version of "Stand By Me" to Vicci Martinez and Niki Dawson's take on Pink's "F--kin' Perfect." But if I had to pick a favorite, it'd be Rebecca and Devon's version of "Creep." Not only was it a different song choice courtesy of coach Adam's eclectic taste, but the pair were a surprisingly awesome fit together. Their rendition was beautiful, haunting...and even a little creepy. No one could have done it any better.
5. Dia Frampton performs Kanye West's "Heartless." I didn't think the girl that auditioned with Colbie Caillat's "Bubbly" would ever sing a Kanye song...but man, am I glad she did. Dia completely reinvented the hip-hop tune with her piano and earnest vocals, making her version stand alone. It was called the single best performance on The Voice up to that point, and I wholeheartedly agree with that sentiment.
6. Team Blake performs Maroon 5's "This Love." Blake's bantering relationship with Adam was one of the best parts of the show, and it reared its head when he chose a Maroon 5 hit for his team's group performance. Adam's reaction was priceless. Not only that, but the rendition was actually pretty good; Team Blake was obviously having a great time with the tune, and that came through in their version. The added bonus was what happened post-performance, as Blake made another wisecrack that left Adam in amused disbelief and Carson momentarily thrown. Watch it below.
I'm not done yet! Read on for numbers 7 to 12...