Top 10 Sports Illustrated Swimsuit Models Visit David Letterman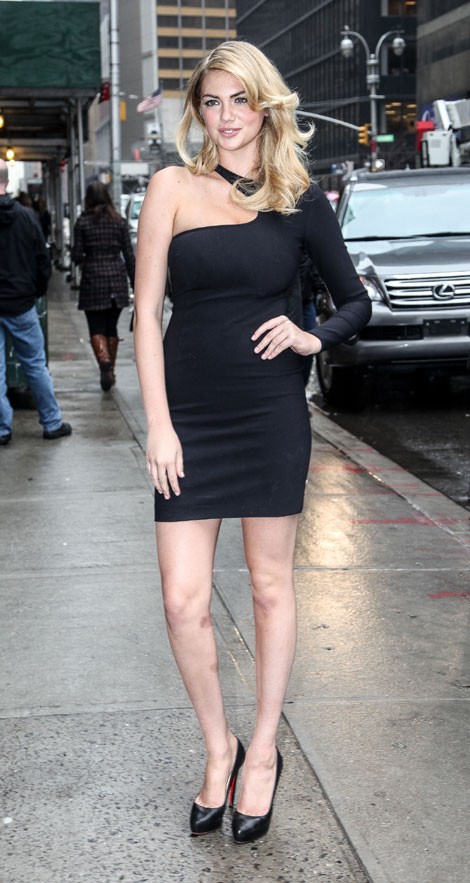 Although it was quite chilly in New York City on Monday night, the heat was on as the top 10 2013 Sports Illustrated Swimsuit models visited the "Late Show with David Letterman."
Cover girl Kate Upton (above) wore a sexy black one-sleeved mini dress as she braved the cold temps outside the studio. She was joined by the nine other stunning ladies, who showed off their figures in sexy, short and tight dresses (see all their pics on the following pages!)
The models listed the "Top Ten Questions on the Application to Become a Sports Illustrated Swimsuit Model."
10. "How naked do you see yourself in five years?" (Emily DiDonato)
9. "Have you dated Charlie Sheen?" (Nina Agdal)
8. "Are you willing to kiss a tubby guy for a Super Bowl commercial?" (Ariel Meredith)
7. "Can you provide your own beach towel?" (Chrissy Teigen)
6. "Will you keep your mouth shut if we lose a couple of girls to shark attacks?" (Hannah Davis)
5. "Please list your three most recent employers' measurements" (Alyssa Miller)
4. "Have you ever used pose-enhancing drugs?" (Julie Henderson)
3. "Are you willing to visit the elderly at his late night talk show?" (Genevieve Morton)
2. "How would Brent Musburger describe you?" (Katherine Webb)
1. "Where's the strangest place you've found sand?" (Kate Upton)
Watch the video below on click on the following pages for photos of the swimsuit models...
CHECK OUT THE PICS OF THE TOP 10!