To play in the NFL and be good at a sport where normal people would likely die after 15 minutes of action, you must be wild, crazy, and insane. The players understand they play a sport where job security is not guaranteed and you are expected to play no longer than five years.
Football players are made differently than everyone else in the world, as they are physical specimens and most have at least one screw loose but that is a good thing. If they did not have a screw loose, they would not be football players.
The NFL has plenty of outrageous personalities and has had them for years; think Joe Namath and his fur coat on the sideline or the original 1985 Super Bowl Shuffle. Professional football has never been known as a dull sport and their players are responsible for that.
It was easy to figure out the NFL's Best Characters but it was not easy breaking them down and ranking them. There are so many outrageous personalities it took awhile to figure out who has the best personality in the NFL but someone had to do it and I felt I was capable.
#10 Maurice Jones Drew
In his fourth professional season MJD has arrived at the NFL level as he has become a top five fantasy running back. His personality is charming and national radio personality Dan Patrick says he is one of his favorite people to have on air due to his candor.
Raised by his grandparents, MoJo comes from SoCal where he starred in high school and at UCLA. If MJD were in a bigger market and not in Jacksonville, FL he would be a star due to his wide smile and great personality. He is one of the few NFL players that does not have criminal record and is one of the league's best representatives.
#9 Larry Fitzgerald
Fitzy broke out last season setting career highs in receiving yards and TDs and he landed on the cover of the Madden '10 video game. His trademark smile has made him a marketing machine and his charming presence does not hinder his marketability.
Larry has been on two EA Sports Video Game covers NCAA Football 2005 and the aforementioned Madden '10. He is widely known as the best WR in the NFL and recently extended his contract to remain an Arizona Cardinal for another three seasons.
#8 Ricky Williams
Ricky Williams is super shy but that does not mean he does not have an awesome personality. The New Orleans Saints drafted Williams in 1999 as they traded all of their draft picks for the best Running Back in College Football history.
Williams hired rapper
Master P
to be his agent and together they negotiated one of the worst contracts in NFL history. He was then traded to the Miami Dolphins in 2002 and two seasons after leading the NFL in rushing, Williams unexpectedly retired early.
Known for giving post game interviews with his helmet on (including visor) and rarely making eye contact with reporters, Williams returned to the NFL in 2005 and is still with the team today but their relationship still remains strained.
The NFL has suspended Williams four times for testing positive for marijuana and another banned substance and Ricky's odd behavior makes him have one of the best personalities in the NFL today and possibly of all time.
#7 Jeff Reed
If you Google Jeff Reed more than a few party pics of the Pittsburgh Steelers party boy pop up immediately. If you are unfamiliar with "Skippy" he is the Kicker for the World Champion Steelers, yes that's right, a kicker is one of the best characters in the NFL.
Reed is extremely clutch during games and even donates $300 for every field goal he makes. He was voted Best Personality in high school and earlier this year Reed was charged with disorderly conduct as destroyed a paper towel holder at a convenience store bathroom.
This dude is wild and he is a Kicker.
#6 Randy Moss
Early in his career Randy Moss was the ultimate bad boy. In his rookie season he broke TD records, led his team to the NFC Championship, and was named to the Pro Bowl but that did not mean his journey to the top was easy.
After high school Moss signed with Notre Dame but was not allowed to join the team as he was arrested in 1995. He would later sign with Florida State but Moss violated his parole and FSU did not allow him on the team.
The Minnesota Vikings drafted Moss 21st overall in 1998 after a number of teams passed on him due to his well-documented off-field trouble. After a quiet off the field rookie season Moss started showing flashes of immaturity.
In his second season as he squirted a referee with a water bottle during a playoff game and in 2002 Moss bumped a police officer with his car and was consequently arrested.
In 2004, during the last game of the season Moss walked off the field with two seconds left and he has admitted, "I play when I want to play."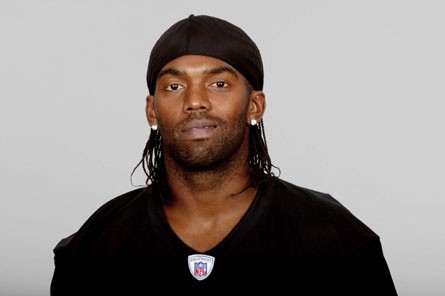 Image © National Football League and Getty Images
Moss also mimicked mooning the Green Bay fans after a playoff TD a few years later, which was praised by his peers, but he was traded to the lowly Oakland Raiders that off-season.
After a few years of futility in Oakland, Moss was traded to the New England Patriots where he broke numerous WR records and welcomes stud QB Tom Brady back this season. Moss has matured and is concentrating on winning but if he gets frustrated this season you can count on him doing something funny.
#5 Chris Cooley
The only white position player with a personality in the NFL is Chris Cooley. Sure Peyton Manning and Tom Brady have hosted Saturday Night Live but that is only because they are popular and work on their acting skills to promote themselves to make money.
Cooley is not a sellout; in fact he has not bought the domain name to his own blog (Chriscooley47.blogspot.com) and has probably never been to an acting class. He is very spontaneous and includes a lot of his teammates in his comedic skits that are posted on his blog.
He is hilarious, self-deprecating, and makes fun of everyone including rival QB Tony Romo's love life. If you go to his blog you will find him funny and witty and he has a future in TV after football.
#4 Terrell Owens
If you have your own reality show you must be a drama queen or have a superb personality. With Terrell Owens you have the biggest drama queen in the NFL with an infectious personality when he is not dividing locker rooms.
T.O. has been kicked out of San Francisco, Philadelphia, and Dallas and if that is not enough drama he now has his own VH1 reality show. He has cried in a post game interview, gave an interview while doing sit ups in his driveway and was the very first NFL player to really sell himself.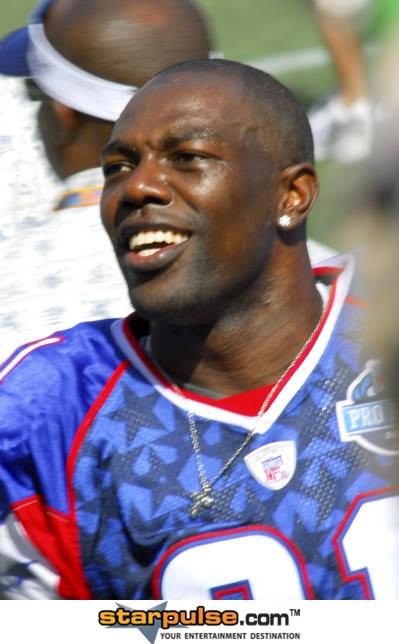 Image © Tina Lau / PR Photos
Although aging, T.O. has a groundbreaking personality and will always remind you to "Getcha popcorn ready" when T.O. comes to town.
#3 Ray Lewis
Ray Lewis is one of the best Linebackers in NFL history and one of the best personalities of all time. He is as charismatic as it gets in this league and can make a grown man cry and make an NFL player play his best with his words of inspiration.
He is regarded as one of the best teammates in the league and if you have not seen his introduction in Baltimore before every home game you are missing out. He has done his dance for over ten years and to this day it still remains an NFL fan's favorite. Look out for it opening day.
#2 Clinton Portis
The Washington Redskins have the best locker room in the NFL and possibly in sports. With two of the best personalities in the NFL sharing a locker room one can only imagine the hijinks that goes on behind the scenes.
Google Image search Clinton Portis Characters and you will see what I mean.
This guy takes time out of his day/week to find new characters to come up with and the names he has for these alter egos are hilarious.
For instance, Southeast Jerome, Sheriff Gonna Getcha, and Coach Janky Spanky are just a few of the names. Just imagine what these fools look like!
#1 Chad Ochocinco
Easily the best personality in the NFL today is Chad Ochocinco, formerly known as Chad Johnson.
A former Pro Bowl WR, Ochocinco recently changed his last name from Johnson to match his #85. He knows that is not how you say 85 in Spanish but he just replies with his infamous, "Child please" saying.
His antics are featured on HBO's Hard Knocks (Wednesday nights) and he actually calls himself Eseban Ochocinco, the most interesting footballer in the world.
I have no idea what Chad will do next which is why he is the best character in the NFL.
Story by
Matt Anaya
Starpulse contributing writer
Twitter.com/shmattshmanaya