Top 10 Moments From Jimmy Fallon's First Week As Host Of 'The Tonight Show'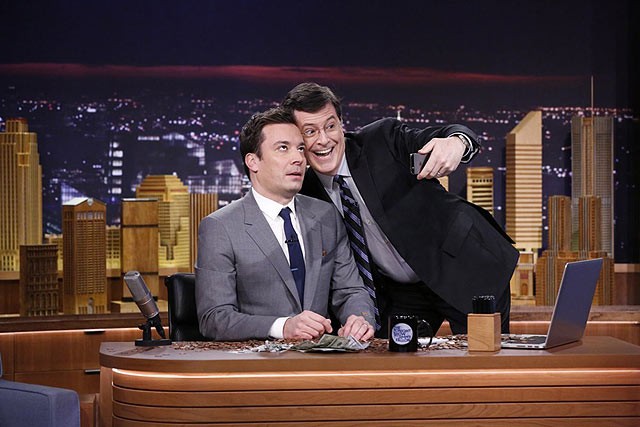 Jimmy Fallon's first week as host of "The Tonight Show" was nothing short of spectacular.

The former SNL star brought out all of his classic skits that were became regular hits while he was host of "Late Night," which, along with a stellar lineup of guests, helped him land NBC its best week since May 17-21, 1993, when the finale episode of "Cheers" aired.

The show averaged 8.5 million viewers a night in its first week despite the first four shows being pushed back a half-hour because of the Sochi Olympics coverage.
Jimmy Fallon's 14 Best Skits From "Late Night" & "SNL"

Fallon made a smooth transition, bringing along regular skits like Charades, barbershop quartet The Ragtime Gals and tween One Direction fan Sara's "Ew!" show.

Check out the best of the best from week one...

Just after taking his seat behind his desk for the first time, Jimmy mentioned a $100 bet he had with someone who said he'd never become host of "The Tonight Show." Robert De Niro then walked out to pay up, slapping a $100 bill down on his desk. De Niro was followed by several other stars who also paid up, capped off by new late-night rival Stephen Colbert...
Fallon and first guest Will Smith took a page from the 'History of Rap' playbook to bring out the "Evolution of Hip-Hop Dancing."
Jimmy's barbershop quartet The Ragtime Gals performed R. Kelly's "Ignition"
Will Ferrell showed off his figure skating routine, minus the ice, to celebrate the Olympics. He "skated" to the theme from "Downton Abbey"
Jonah Hill joined Jimmy on the couch for another edition of "#Hashtag," in which the two stars added hashtags into their converstion. They also didn't make any friends doing it.
NBC news anchor Brian Williams rapped the Sugarhill Gang's classic "Rapper's Delight" with a little help from some fellow NBC personalities and the magic of editing...
Former 'SNL' co-star Kristen Wiig showed up, but not as herself...
Jimmy's weekly Thank You Notes... every Friday he thanks various people and things...
Finally, regular guest and good friend Justin Timberlake capped off the week. The two didn't say a word to each other because of a screaming crowd, and the two pulled out microphones and immediately launched into the fifth version of their "History of Rap" routine.
After sitting back down, the two revisited the Christmas episode of "Saturday Night Live," during which the two appeared on a spoof celebrity edition of "Family Feud" that left us in tears...


What was your favorite moment? Leave us a comment below...