Top 10 Artists Who An Aging Music Snob Can Start Admitting He/She Likes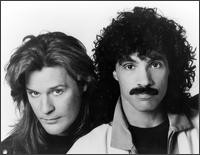 When you're a music snob, you have a reputation to uphold. As such, you can't afford to be caught with God awful crappy discs in your collection, or can you? Suddenly, before you know it, you reach an age where you just don't care anymore - think one of your embarrassing aunts dancing to the YMCA at a wedding, looking like a fool, but having the time of her life. The following are some artists that even if you're an indie rocker with impeccable taste, there comes a time where you have to start admitting these guys are good.
Neil Diamond
: The trick to this guy is hearing other people singing his stuff. "I'm a Believer" performed by
The Monkees
is certainly a great song, but listen to
Johnny Cash
sing Solitary Man. It's almost as if it should have been written for Johnny. He makes it a whole new song - so much darker and the bare bones approach draws more attention to the great words Neil put together. Everyone loves to hit the ba-ba-ba's in Sweet Caroline, but songs like "Forever in Blue Jeans" and "Love on the Rocks" are so great too, even if they're really corny.
Styx
: I always dug the Tommy Shaw Styx songs like "Renegade" and "Blue Collar Man," but now I like the Dennis DeYoung ones, too, like "Lady" and "Babe."
Lord, help me
.
Reo Speedwagon
: "Time for Me to Fly," "Roll With the Changes," "Ridin' the Storm Out," "Take It on the Run," and "Keep on Loving You" are all great songs - face it. It's when you can own up to liking "I Can't Fight This Feeling Anymore" that you know you're no longer cool, but there comes a day where we have to face those facts.
Hall & Oates
: I hated these guys as a kid because they looked like such dorks in their videos, always staring uncomfortably close to one another, Hall with his bad dancing, Oats with his famously bad mustache. Now when I hear "Private Eyes," I'm the first guy to start in with hand clapping. Go figure.
Journey
: "Lovin', Touchin', Squeezin' among others will always suck real hard, but nobody did sappy ballads that make you want to slow dance with someone special on songs like "Faithfully" and "Open Arms" quite like Journey. Steve Perry was not the coolest looking guy of all time, but there's no denying the guy could sing his ass off. The band had to scour the earth to find his replacement, finally finding a suitable guy from the Philippians. Sure he's pretty good, but let's see him play air guitar with a broom like Steve in the "Oh Sherry" video.