Tony Shalhoub Talks About 'Monk's' Final Season

In one of the smartest moves a television show can make, the upcoming eighth season of "
Monk
" will be its last, ending its popular run on a high note. In a Q&A with Golden Globe, Emmy, and SAG award winner
Tony Shalhoub
, the actor fielded questions about the final season and the impact "Monk" has had on both television history and culture.
Shalhoub stated, "We certainly don't want to go too long and have the quality start to wane and just limp to the finish line. We want to go out while we feel really that we're doing great work and delivering really strong episodes. We want to go out on a high."
This season will answers questions that have been plaguing both Monk and viewers alike. In addition to the return of Sharona and resolution to Monk's efforts for reinstatement to the SFPD, the final episodes will concentrate on solving the murder of Monk's beloved wife, Trudy. Planning the final season has allotted for the return of favorite old characters.
Shalhoub commented, "Well, there's been a lot of publicity about Sharona coming back.
Bitty Schram
is going to come back for [a late] episode, which will start shooting in September. And they want to bring that character back and kind of wrap it up and kind of give that a good send off. A lot of people really missed that character and the dynamic between Monk and Sharona. And so we're all looking forward to that. Of course, we'll see Harold Krenshaw comes back, one of my favorites. He's the other OCD patient who is always kind of in competition with Monk, played so brilliantly by Tim Bagley. He's going to return for at least a couple of episodes. Dr. Bell, the psychiatrist will be in a number of episodes. I don't think - people have asked if we're going to see Ambrose. I don't really think that's in the cards simply because that's … John is so busy. It's difficult to schedule him in. I mean, if I had my way, we'd do kind of what Seinfeld did and bring back almost every guest star there ever was on the show, but ours is going to go in a different direction."
As for a favorite guest star, Shalhoub was conflicted but finally settled on
Gena Rowlands
, saying, "The most thrilling for me was last season working with Gena Rowlands on Mr. Monk and the 'Lady Next Door.' She was such a tremendous influence on me when I was a student and studying acting. I was a devotee of John Cassavetes movies and the movies she did even separate from him." He couldn't name his favorite episode, settling instead for three: 'Mr. Monk and the Three Pies', 'Mr. Monk Takes His Medicine', and 'Mr. Monk is Someone Else'.
What about his wife Trudy? Her murder has been one of the most successful narrative arcs in television history, rivaling even Mulder's sister Samantha on
The X-Files
. We know it's going to be addressed in the final season, but did Shalhoub think it should be solved or left for the audience as more of a McGuffin? Shalhoub's answer mirrored many of the fans, "I really think it should be solved. I know there are people who say that maybe it shouldn't because that would mean that there would be life for this character beyond the series and that possibly the solving of Trudy's murder would cure him in some way or take down his OCD symptoms, and then the character wouldn't really be the character that we've come to recognize. But I really feel that we've worked this storyline so delicately and for so long that I think we owe it to not just the audience and to ourselves, but to the character of Monk and to the character of Trudy that we've created."
Whether a seasoned fan, or a "Monk" newbie, we highly suggest tuning in for this final season. The eighth season begins on Friday, August 7 with "Mr. Monk's Favorite Show."
When an attempt is made on the life of a former child star who recently published a tell-all biography, Monk is thrilled to act as her bodyguard - until he learns exactly how different she is from her TV alter ego. The episode guest-stars
Elizabeth Perkins
(
Weeds
) and
Rena Sofer
(
24
).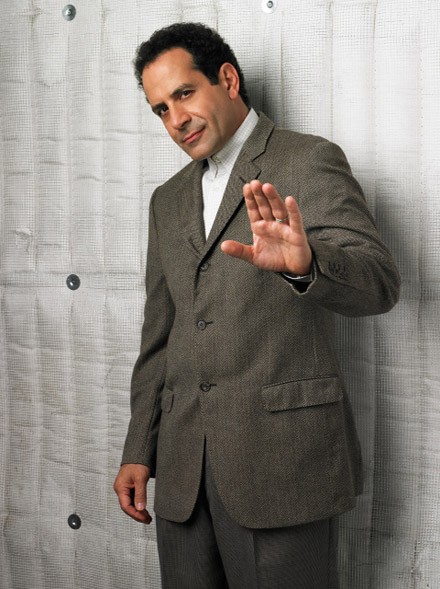 Image © NBC Universal, Inc.
Story by
Sarah Lafferty
Starpulse contributing writer
Follow Sarah on twitter at
starbuckscout
.