Tony Nominee Cyndi Lauper: 'To Be Standing Where I Am Is Beyond Magical'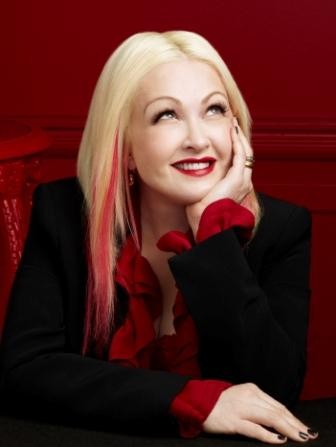 Starpulse.com's Jeza Belle caught up with music icon Cyndi Lauper for an interview that focused on Cyndi's new tour celebrating the 30 year anniversary of the "She's So Unusual" album, how she's grown as an artist, and the thrill of having "Kinky Boots" nominated for 13 Tony Awards. 
It's been 30 years since the album "She's So Unusual "dropped onto the charts placing you in the spotlight forever. What has changed about you as a musician in those 30 years and in what ways are you the same?
I have learned so much and think as a musician and songwriter I am better now than I was 30 years ago. The more you practice and study, the better you are…so I still practice and study all the time. How I am the same is I am still as excited about music as I was when I started!  I still love every aspect of it. 
You are celebrating those 30 years with fans who are thrilled to see you out on the road in the "She's So Unusual" Tour this year.  What should they expect?
I am doing the entire "She's so Unusual" album from beginning to end. I am going to play the same arrangements as the album. We are going to be true note to note. We even are bringing out the keyboards from the 80's because while you can find programs that simulate some of those great 80's keyboard sounds, it's not the same. We have been rehearsing and it's been a lot of fun to go back and really listen to the album and play it the way we did back then.
There has always been something freeing about your music AND your personal style that has set you apart from essentially everyone else on the scene. Where do you find that independent spirit to listen to your artistic self and not fit into an expected mold?
I have a hard time doing anything someone else tells me to do!  I've always been driven to follow my own path and not be pushed down another lane because some executive thought I could be more commercially successful or whatever. If you make music just to appease a record company or radio then how the heck can you live with that?!  10 years later you have to continue to play it live and remember you sold a piece of your soul to fit in.   
One of your most recent ventures includes your work on the highly regarded musical "Kinky Boots". Tell our readers what it was like creating the music and lyrics for the show?
It was awesome!  I mean I got to work with literally the best and the brightest of Broadway. Harvey Fierstein and I had been friends for a long time and I've always wanted to work with him. When he called me to ask me if I wanted to write the score for "Kinky Boots", I didn't hesitate!  What was different about it from writing songs for my own album is I had to write songs for all the different characters. So, I had the chance to write for all these other voices not just my own. It was so much fun!  When I perform on stage I often pretend to be someone other than myself to bring a certain emotion or intent to a song.  In a way it wasn't a huge stretch to put myself in other people's shoes to write songs for them 'cause I kinda use that method to sing.  I loved it every minute of it.  It took about 4 years from the phone call with Harvey to the day we opened at the Hirschfeld  Theatre and I loved every minute of it… it was hard work but so rewarding!
How did you react when you heard the show received 13 Tony nominations?
Well 13 is my lucky number!  So 13 nominations in the year 2013 is pretty cool!  I am really humbled to be shown that much love and acceptance from the Broadway community.  I've been a fan of Broadway since I was a little girl when my mom used to play her Broadway records and I used to act out all the parts.  So to be where I am standing now is beyond magical!
You have been the voice of the LGBT community for a generation. This has included speaking out for gays and lesbians in a variety of settings including on Capitol Hill. What motivates you to stand up?
I am family and friend. My sister, other family and friends are part of the community. Where I come from if you see your family and friends' civil rights being taken away, you speak up and do everything you can to keep that from happening!
Now, time to dish with the drag queen:
Favorite color your hair has ever been?    
I loved them all!
Which one of your many hit songs is your personal favorite? 
Depends on the day really but I just feel fortunate to have them all.
What other musician(s) inspire you?
Joni Mitchell, John Lennon, Big Maybelle, Janis Joplin. There are so many.  My kid is way into EDM right now and I'm pretty excited by it too: Swedish House Mafia, Diplo, etc.
Favorite New York food? 
What does New York food mean?!  We have every kind of food from all over the world - right now I'm heavily into Russian borscht, though I'm trying just to eat healthy.  I don't do hot dogs or bagels really.
Finally, you have sold over 50 million albums, starred in movies, Broadway, and even your own television show. In addition, you have been nominated for and won countless awards including fourteen Grammy Award nominations. After all is said and done, what do you consider to be your greatest accomplishment and how do you wish to be remembered?
I am so proud of everything in my career and life. But the greatest accomplishment is being the mother to my 15 year old son Declyn, who is about to finish his freshman year of high school. He is the greatest joy of my life!
For more information on Cyndi, visit the Cyndi Lauper Official Website or the Kinky Boots Official Website.