Tony Goldwyn And Marin Ireland Preview 'Provocative And Complicated' New Series 'The Divide'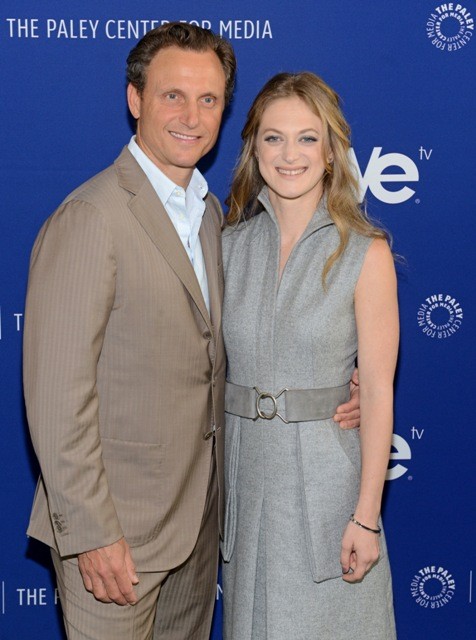 We're less than a month away from the premiere of our most anticipated show of the summer. WEtv's The Divide is from the brain of elite actor-director Tony Goldwyn (Scandal) and Richard LaGravenese (Behind The Candelabra) and stars the lovely Marin Ireland (Homeland) as a really complicated law student - and it's about to knock the crime drama on its behind. We snagged a few minutes with Tony and Marin last week at the Paley Center for Media to see what we could learn about The Divide.
For Tony, the show officially makes him a multi-hyphenate, adding show co-creator to his resume after years as one of the best actors and directors in the business. What was it like for him to be a part of a project from that new perspective?
"It's been really, really exciting," he said. "It's been difficult, often feeling like me and my brilliant partner Richard LeGravenese, that sometimes we were groping our way through the dark, trying to let these characters tell us where the story wanted to go.
"We wanted to do something that wasn't conventional and pre-planned and it's very much a character-driven show. But ultimately, that paid off in a huge way, because I think our story's always surprising and really entertaining and very, very provocative and complicated."
Marin takes center stage as Christine Rosa, a thorny caseworker with The Innocence Initiative - a fictional version of The Innocence Project - who digs into the case of a murdered family more than a decade after a death-row inmate was found guilty of the killings. This doesn't go over well with the prosecuting attorney, Adam Page (Damon Gupton, Suits), who made his career on the conviction. Needless to say, a firestorm ensues.
"There are a couple of great turns that it takes," enthused the actress, who actually spent time as an intern with the Innocence Project in preparation for the part. "I was really proud of the fact that a character that we created, that is wounded and very, very guarded, we found some great places for that stuff to kind of come through and for the wall to crack. And that stuff I'm really proud of because it felt very authentic to me."
She also told us what it's like to be headlining the first scripted series ever to air on WEtv, which is primarily known for female-oriented reality television. "When we shot the pilot, it was for AMC, and AMC owns We and Sundance Channel and IFC. They made that decision after we shot it," she explained. "So it was definitely the kind of thing where we were kind of going 'Oh, okay. I guess we're just shifting it over there.'
"But it's definitely been the same kind of people all around, just adding the WE team as a great support system. You kind of have to roll with it at a certain point, and feel like 'All right, let's just go along for the ride,' and luckily they've been amazing so far."