Tommy Lee's Reality TV Show Axed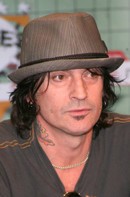 Rocker Tommy Lee's upcoming reality show has been axed, according to a report.

The Motley Crue drummer was set to star in Culture Shock with Tommy Lee, an investigative travel program on the SyFy Channel, however production talks have fallen through.

According to the New York Post, sources overheard the musician-turned-DJ telling pals at a New Jersey gig "the show just didn't work out."

The unscripted series would have been Lee's big return to TV - he teamed up with rapper Ludacris in 2008 to shoot eco-friendly show Planet Green.