Tommy Lee Sued By Former Assistant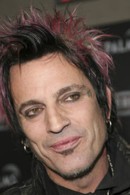 Rocker Tommy Lee has been hit with a lawsuit from his former assistant over allegations of unpaid wages.

Michael Sullivan claims he was regularly asked to work overtime during his six years with the Mötley Crüe  drummer, but did not receive full payment for the extra hours.

The court papers, obtained by ET Online, state, "In general whether Sullivan was assisting Lee at his home/office/studio, or on the road while touring, Sullivan was required to be on call 24 hours a day, seven days a week."

Sullivan alleges his position was terminated in March and he wants $50,000 in damages for "lost profits and business opportunities."