Tommy Emmanuel Returns To 'Center Stage' With Live 2-CD Set Out April 29

Recognized as the elite of the elite and arguably the greatest living acoustic guitar player, two-time Grammy® nominee
Tommy Emmanuel
has mesmerized both fellow musicians and audiences alike with a professional career that spans over four decades. Tommy's dazzling performance, flawless guitar skills and voluminous repertoire never fail to amaze and engage his legions. From the wilds of Australia's outback to bustling major cities throughout the world, Emmanuel's flair, unforgettable showmanship and exhaustive world wide touring schedule have created an enviable fan base that continues to grow even larger every year.
Set for release April 29,
Center Stage
is an essential mix of new songs and fan favorites from Emmanuel's previous Favored Nations Acoustic releases like
The Mystery
&
Endless Road
. Also included are four never-before recorded songs - "Ruby's Eyes", "Jolly Swagman", "Lenny Bro" and "Papa George" (inspired by
George Harrison
) which showcase Emmanuel's stunning six-string abilities.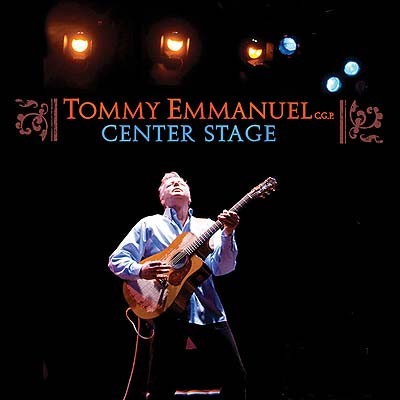 Guitar legend
Chet Atkins
honored Emmanuel with the title of "Certified Guitar Player" for his lifetime contribution to the instrument, a rare honor shared by only three other people in the world (
Jerry Reed
,
Steve Wariner
and
John Knowles
.) Emmanuel has set Australian sales records that have yet to be broken and performed with hundreds of musical legends including Chet Atkins,
Les Paul
,
Keith Urban
,
Eric Clapton
, Sir
George Martin
,
Tina Turner
,
Joe Walsh
, and
Stevie Wonder
.
"It's always funny to me when people use the phrase, 'Best guitar player in the world'. There are too many variables such as technique, uniqueness, emotional investment in the notes, etc. But if I had to pick one, it would be Tommy Emmanuel. Watching him perform can be a study in artistic and virtuosic human achievement." –
Steve Vai