Tom Petty And The Heartbreakers Offering Reward For Return Of Stolen Guitars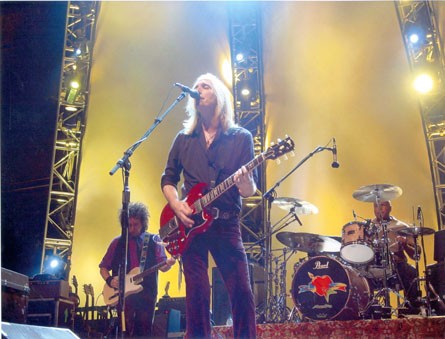 Rockers Tom Petty and the Heartbreakers are offering up a $7500 reward - with no questions asked - for the return of five guitars that were stolen from the band at a Culver City, Calif., soundstage.

The band was rehearsing for its upcoming world tour; which kicks off Wednesday in Colorado; when the instruments were swiped.

Petty, who's been tweeting and posting to the band's Facebook page about the stolen goods tweeted that "The show will go on" whether the guitars are returned or not.

The topic became a hot trend on Twitter as well, with fans and other celebs offering their support.

Petty's official site posted news and information about the guitars on Friday, and the singer also posted pictures of each of the guitars on his Facebook page (see them below). The stolen items include Petty's 1967 Blonde Rickenbacker & 1965 Gibson, Mike Campbell's Dusenberg, Ron Blair's Fender Broadcaster, and Scott Thurston's 1967 Epiphone Sheridan.

"Need help finding these guitars," Petty tweeted on Friday.

"If you have any information on the whereabouts of these stolen guitars, please email StolenGuitars@TomPetty.com or contact Detective Grant at the Culver City Police Department 310-253-6305."


The stolen guitars (l-r): Mike Campbell's Dusenberg, Tom Petty's Gibson SG TV Junior - SN 318533, Scott Thurston's Epiphone Sheridan 1967, Ron Blair's Fender Broadcaster, and Tom Petty's Rickenbacker 360/12 - SN GH3747: