Tom Kenny Talks Returning To Acting In 'The Haunting Hour'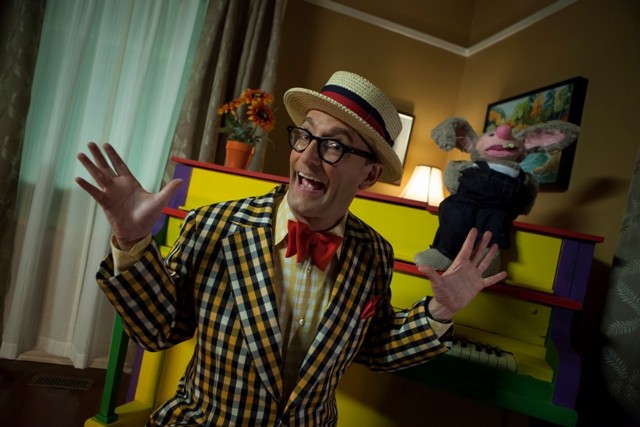 Sometimes we feel like Tom Kenny voices every animated TV character in existence. Possibly with some help from Billy West and Maurice LaMarche. But he's taking a rare step out from behind the microphone with today's episode of The Haunting Hour. BFTV talked with Tom on Friday about playing creepy kids' show host Uncle Howee, and we'll say this: you probably won't look at Spongebob Squarepants quite the same way again.
"It's fun," he said of returning to acting, which was a part of his early career, before we knew him as Spongebob, Heffer Wolfe, or Ice King. "It's the same in the sense that you're just taking what's on the paper and trying to do what's right - trying to service the script and do something that feels right and is in the right tone. I've been primarily voice-over for awhile now that people forget I have this other past. They don't realize that I spent years as a stand-up comedian and doing other stuff as I was trying to break into voice-over."
In The Haunting Hour, Tom's Uncle Howee is a TV personality who comes off the screen to teach Jared a chilling lesson about being mean to his younger sister Cynthia. "When I was doing this episode I was kind of having flashbacks to Shakes the Clown, which was a movie I did in 1992 where I played a psychotic killer clown that had a kid's show," he laughed. "Here it is twenty-one years later, and I play a psychotic guy that has a kid's show!"
But "I didn't see him as psychotic. I saw him as this trickster that keeps younger siblings from being pushed around by their older brothers," he added. "The concept of an imaginary friend that sticks up for maligned younger siblings would probably be pretty attractive to a lot of kids out there that have older brothers and sisters."
These days, Tom is famous for providing the pipes for countless animated characters. If you watch cartoons of any kind, you're probably hearing his voice. How crazy is his workload? "Usually it stays very consistent. Usually I'm on between six and eight series at once. It's rarely less than six and it usually doesn't get to more than like eight," he explained. "Much like the old video game Frogger, just as one show wraps, usually something that you auditioned for awhile back is hopefully getting picked up or going into production."
Just look at his current to-do list: the second Spongebob Squarepants movie is coming out next year, while he lends his voice to Cartoon Network's Adventure Time, Comedy Central's Brickleberry, Disney Junior's Henry Hugglemonster, Disney XD's Wander Over Yonder, and the upcoming Powerpuff Girls special slated to air in January. No one can say Tom isn't ridiculously productive.
But you probably won't be catching him tuning in any of his live-action credits. "I'm so happy that I can make a living doing voices and working on cartoons," he said. "Speaking of on-camera [parts], I'm definitely one of those actors that can't watch myself on screen. It's not that I'm not proud of it, [but] it's very, very uncomfortable for me. There's whole seasons of Mr. Show that I've never seen. And definitely any of my old stand-up, I cannot watch. For some reason when it's an animated drawing, I'm okay."
Whether he's voicing beloved cartoon folks or playing something more scary, Tom's definitely a welcome presence in all of our homes.
Tom's episode of The Haunting Hour, "Uncle Howee," airs today at 4:30 PM PT/7:30 PM ET on The Hub.
(c)2013 Brittany Frederick. Appears at Starpulse with permission. All rights reserved. No reproduction permitted. Visit my official website and follow me on Twitter at @tvbrittanyf.