Tom Hardy To Drive Across Siberia For Homeless Charity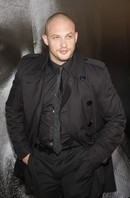 British actor Tom Hardy is preparing to brave icy conditions as he drives across Siberia to raise money for a homeless charity.

The Inception star is a patron of U.K. organization FLACK, which helps the homeless by involving them in the production of a monthly magazine, and he is aiming to raise $48,000 by embarking on a journey across the isolated Russian region.
 
Hardy has set up an internet donation page on Justgiving.com and he's urging fans to donate whatever they can to help.
 
In a post on the page, he writes "I've been supporting FLACK since it first started and now I'm about to set off to drive across Siberia to raise money for three charities I care about including, of course, FLACK!...

"So please do cheer me on as I brave the Siberian Steppes by donating whatever you can afford. I hope to send the odd pic from along the way if I can work out how to use my phone without taking my gloves off!"

Hardy has so far raised $23,725, just under half his target total.