Tom Hanks Talks Playing Walt Disney In 'Saving Mr. Banks'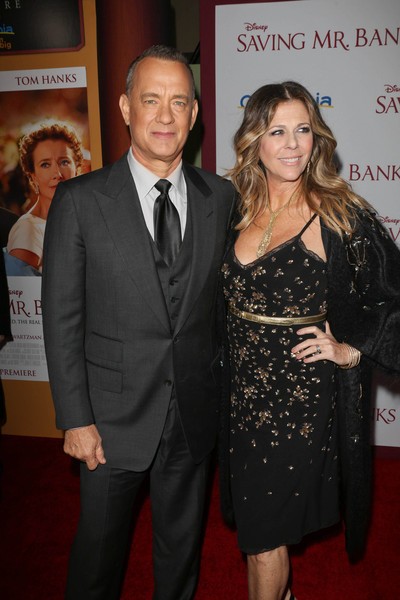 There are arguably no current stars as famous as Tom Hanks. The two-time Academy Award winner has starred in films that are part of everyone's collection for decades. Perhaps then it was appropriate that our era's biggest star played Walt Disney, one of the century's most famous figures. Or, maybe it made it more challenging for Hanks to disappear into the character of Walt Disney in his new movie, Saving Mr. Banks.
Related articles: SAG Award Nominees Announced; Star-Studded 'Saving Mr. Banks Premiere'; Tom Hanks Terrified His Granddaughter At Disneyland
"Well, we had the most discussed, photographed, analyzed, diagrammed, tested mustache on the planet," Hanks joked. "I think actually the documents went to the United States government to discuss the angle of the shave, how much mustache was going to be there."
Saving Mr. Banks tells the story of the making of Mary Poppins. Walt Disney (Hanks) tries to convince author P.L. Travers to warm up to his idea for a musical, partly animated adaptation of her novel. 
"I don't look too much like him but there is a line, there is an angular figure you can get by the way the boxiness of the suits and the playing around with various pieces of hair in order to get there. I had a little bit of luck in that Walt Disney at this time in his life was very much already Walt Disney. There is a bit of a vocal cadence and a rhythm that Mr. Disney had that took a while to figure out."
Hanks learned about the real Walt Disney from his daughter Diane Disney Miller. The Disney we expect him to play was the persona Disney himself adopted for his televised appearance. 
"The only handicap there was a lot of it is Walt Disney playing Walt Disney, but even in some of that and plenty of others, there's an ocean of cadence to the man and that true sense that he believed everything that he said about his projects. He completely embraced the possibilities of wonder in the movies that he was going to make as well as the rides he was going to come up with, the things that he was going to but I had a great roadmap in order to search it out."
Saving Mr. Banks opens December 20. 
'Saving Mr. Banks' Los Angeles Premiere - Arrivals Photos