Tom Felton Delivers Pizza To Waiting 'Harry Potter' Fans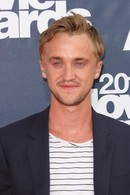 Actor Tom Felton stunned film fans camped out on the streets of New York ahead of Monday's premiere of the final Harry Potter film by delivering pizza to them.

The stars of the boy wizard films are expected to walk the red carpet at Manhattan's Lincoln Center on Monday evening when they unveil Harry Potter and the Deathly Hallows: Part 2.

Crowds of devotees eager to catch a glimpse of Daniel Radcliffe, Emma Watson and Rupert Grint began gathering outside the theaterx last week, and Felton decided to personally hand out boxes of fresh pizza to them as a token of his appreciation for their years of support.

However, Felton, who plays villainous Draco Malfoy in the Potter films, had to cut his good deed short after his sudden arrival sparked a commotion outside Lincoln Center.

In a post on his Twitter.com page on Monday, he writes, "good morning! hope everyone who camped out is ok! sorry i couldn't get pizzas to all of you i was getting told to leave!"

He added, "i enjoyed my role as pizza delivery boy last night!"

He also warned fans to "stay hydrated" as temperatures in the Big Apple soared to over 90 degrees, adding, "Hope everyone who's waiting is drinking lots of water! Stay hydrated! See you very very soon."