Tom Everett Scott Talks 'Southland,' Its Move To TNT

On Tuesday, January 12, Southland will begin airing the original 13 episodes on TNT after its premiere on NBC last April. The show's producers are delighted
with the move to TNT and released a statement to the press: "This is a great win for fans of 'Southland' and a perfect opportunity to introduce the series to new viewers, and it's also another outstanding example of how TNT has established itself as the go-to place for the best dramas on television."

Created by Emmy-winning writer Ann Biderman and produced by Emmy-winning John Wells, "Southland" follows the lives of Los Angeles police patrol officers and detectives. Unlike your typical police show, "Southland" is more of a character-driven drama showcasing rookie Officer Ben Sherman (Benjamin McKenzie), training officer John Cooper (Michael Cudlitz), Detective Lydia Adams (Regina King), Officer Chickie Brown (Arija Bareikis), Detective Sammy Bryant (Shawn Hatosy), and Detective Russell Clarke (Tom Everett Scott).

We caught up with Tom Everett Scott at the Boston screening of the show, where we got a sneak peak into the newest season (we won't give away any secrets!) and participated in a Q&A session with the star. A very polite and enthusiastic guy, Tom was happy to be back in his home state of Massachusetts to share the hit show with his hometown fans. Tom told us his favorite thing about Boston is the Red Sox, the best movie he's been in was That Thing You Do, and how he loves working side by side with "Southland" co-star Regina King.

In preparation for the police drama, Tom and the other actors got to ride along with the Los Angeles Police Department in order to perfect their roles. He spent a year and a half developing his character and credits the LAPD for the great support they have given the cast and crew. "On my first ride-along, the police officer asked me if I wanted to wear a bullet proof vest," Scott explained. "I asked him if he was wearing one and he said yes but that they were very uncomfortable and I didn't need one. So, we went about our day and we actually did encounter someone with a gun so I was a little nervous. When we got back to the station another police officer asked me where my vest was and when I told her I didn't wear one, she said I was crazy!"

The crew works alongside actual Los Angeles police officers and detectives, which gives the drama a more authentic feel. On the switch from NBC to TNT, Tom said he wasn't that upset with the move. "'Southland' wasn't working out on NBC and I'm very happy with the move to TNT because it's a great show with an opportunity to succeed on that channel."

Tom also shared with us the moment his career really took off during his audition for That Thing You Do. He explained, "I walked in and Tom Hanks said that he saw a juvenile version of himself in me and didn't think he could cast him in the movie. But Tom's wife, Rita Wilson, saw a picture of me and said, 'You're nuts, he's great.' I owe my career to her and try to send her a box of chocolates every year!"


See more photos of Southland here!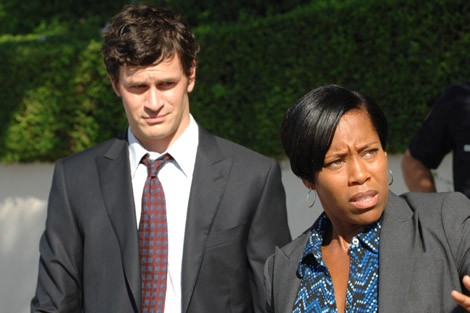 Image © NBC Universal, Inc

Story by Erin Demchak

Starpulse contributing writer