Tom Cruise Turned To Jon Bon Jovi For Rocking Advice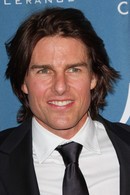 Tom Cruise turned to Jon Bon Jovi for rock star advice after signing up to play showman Stacee Jaxx in the new Rock Of Ages musical.

Cruise was keen to boost his rock 'n' roll credentials before taking on his first big musical role, so he asked Bon Jovi for help.

The rocker tells news show Extra, "He and I actually went out and he was very intense about 'How do you do this?'

"I said, 'Relax man, you're Tom Cruise, you can learn how to sing a song, don't worry about it.'"

Bon Jovi has yet to hear Cruise's rendition of his "Wanted Dead or Alive" from the film, but he's confident it'll be a show-stopping performance.

The real rocker adds, "I'm confident that Tom Cruise singing 'Wanted Dead or Alive' will be in the trailer."