Tom Cruise Leads 2012 Box Office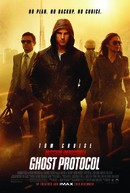 Tom Cruise sailed into 2012 with a number one hit at the box office after his new action movie Mission: Impossible - Ghost Protocol scored big over the holiday weekend.

The latest addition to the Mission: Impossible film franchise topped the New Year's weekend box office with an estimated $31.3 million in earnings.

It saw off competition from another sequel, Sherlock Holmes: A Game of Shadows, which came in second by taking $22.1 million at the box office.

Family-friendly film Alvin and the Chipmunks: Chipwrecked ($18.3 million) came in third ahead of War Horse ($16.9 million) and the American adaptation of The Girl With the Dragon Tattoo ($16.8 million).