Tom Cruise Deemed Too Short For 'One Shot' Role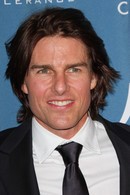 Diminutive actor Tom Cruise has sparked outrage over his casting as hulking ex-soldier Jack Reacher in the adaptation of the hugely successful book series, with critics branding him too small to play the popular fictional character.

The short Mission: Impossible star has signed up to play oversized action hero Reacher in movie One Shot.

However, devotees of the bestselling books are fuming at the casting decision, insisting Cruise shouldn't have been chosen, and they're calling for the film to be boycotted.

One fan tells Britain's Daily Star, "It's absolutely ridiculous. Reacher is huge and Tom Cruise is tiny. It's the worst casting decision ever."

Meanwhile one Reacher devotee posts online, "I will not pay to see this movie. The thought of casting little Tom Cruise as Jack Reacher makes me sick."

Nevertheless, the author of the hit series, Lee Child, insists Cruise's height shouldn't matter: "Reacher's size in the books is a metaphor for an unstoppable force, which Cruise portrays in his own way."