Toks Olagundoye Is One Of ABC's 'The Neighbors'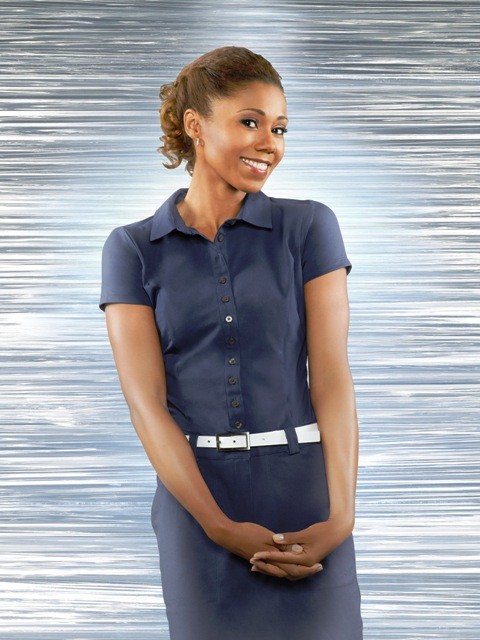 ABC's The Neighbors picks up its second season tonight, and BFTV touched base with actress Toks Olagundoye - who plays the alien Jackie Joyner-Kersee - to chat about the show, what it means to portray an otherworldly being, and the unconsidered perks of being an actress.
How exactly do you decide to play an alien? Do you go over the top, like John Lithgow's beloved character in 3rd Rock From The Sun, which The Neighbors is oft compared to? Toks told us, "I would love to say that I'm a very Method actor, because that seems to be the popular thing to say, but I'm really not. I think that I read things and either I get it or I don't get it. There's work that goes into it; I find a voice for the character or the physical stature of the character. I think that my training is just very realistic. I'm able to give a grounded performance, because I always come from a place of connecting with what I'm doing."
"There hasn't been anything we've done on our show that's been a bad idea," she enthused, and they've done some pretty cool things. There's been a crossover with ABC's own Shark Tank, Mark McGrath and Lori Loughlin guest-starred in a high school reunion episode, and lots of cameos. What would Toks say was her favorite stunt or cameo?
"Having Bethenny Frankel on last season...She is someone that I respect. I have a great appreciation for people who work really, really hard and I think she's one of the most hardworking people in this business," she said, adding that "Having Meredith Baxter on playing my mom was one of the great joys I've ever beheld in my life."
"The most awesome thing about this job is getting to have a job I love. Somewhere to go every day where I literally get paid to have fun," she reflected. "I'm not saying it's not difficult; we have very long days and some of it is a bit overwhelming. But it's a luxury for an actor to know they have a job every day. This is literally my favorite job I've had in my life."
That declaration is particularly poignant when you consider how hard she's worked to get where she is today. Originally from Nigeria, the actress graduated from Smith College and built up a resume in the New York theatre world before starting to appear on our small screens. On TV, she's already worked alongside folks like Richard Dreyfuss, Marcia Gay Harder and Royal Pains' Mark Feuerstein. Yet early in her career, there was one successful audition that brought her to tears.
"As a New York theater actor, we would say when the show was still on the air that  you were not a real NY actor unless you were on Law & Order," reflected Toks, who appeared in the finale of the long-running legal drama's 14th season. "I cried. I was happy to just go in and get an audition. I was beyond happy that anyone from that show would be remotely interested in seeing me do anything for them."
Now she's starring in her own ABC sitcom, the well-deserved reward for more than a decade of effort and determination. It just proves that no matter where you start from, if you love what you're doing and are willing to never give up on it, you can make it happen. In a sense, she's a walking example of the American Dream.
As Toks' story tells us, being an actress can be a pretty fantastic job. So what's been one of the cool perks she's gotten since she started acting? "Free stuff," she laughed. "I can't believe the amount of free stuff we get...the clothes and shoes and products and vacations. It's unbelievable to me that once you start making money in this business you don't have to spend much of it because you get so much free stuff. I can't imagine what people the level of Sandra Bullock and Julia Roberts get. It's ridiculous. And I'm not going to say no to it!" We wouldn't either - she's certainly earned it.
The Neighbors returns to ABC tonight at 8:30 PM ET/PT.
(c)2014 Brittany Frederick. Appears at Starpulse with permission. All rights reserved. No reproduction permitted. Visit my official website and follow me on Twitter at @tvbrittanyf.