Todd Newton Returns For More 'Family Game Night'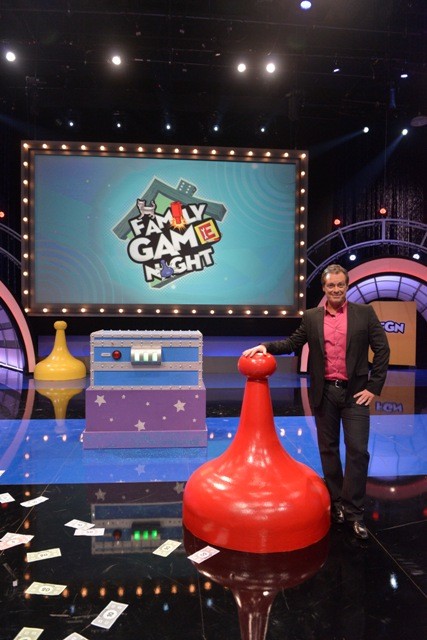 Family-friendly game shows are alive and well on The Hub, which kicks off a new season of Family Game Night tonight. FGN turns beloved Hasbro board games into family competitions, with everything overseen by charismatic hosting veteran Todd Newton. Todd phoned into BFTV on Wednesday to chat with us about the new games joining the FGN roster this season, and which one you should never, ever play with him.
"I think you constantly have to evolve. The audience grows, the audience is exposed to new games throughout the year," he said of bringing fresh titles onto the show for this season, quipping, "We take playing games very seriously."
Now families will be playing things like Jenga, Monopoly Remix, and Barrel of Monkeys. Which of the additions most interested the show's Emmy-winning host? Turns out it's two of them. "Barrel of Monkeys was the first one that they told me about. We gathered a bunch of people around the computer at the Hasbro offices. And you know a game is going to translate well to television when you have a bunch of people glued to a computer screen," he told us. "Then when we saw the giant Jenga tower, that one had me hooked. I can't get enough of Jenga."
"They played out even bigger than we thought. We rent warehouse space out in Burbank for a few weeks prior to shooting. The games were a blast there and we had fun with it," he continued. "But when you put the studio audience into the mix, the audience is always exceeding our expectations as far as creating an energy level. When you have that combined with all these new games, it's out of this world.
"We're very proud of the season," he added. "We certainly had some great moments. We had some pure contestant magic this season, [and] it all made the cut. In my opinion this is the biggest and best season of Family Game Night yet."
Asked what he thinks has been the key to Family Game Night's success, "It's families playing together. I think it's the familiarity of all the games, and I think it's the energy level of all the games. Not only are they fun to play, they're fun to watch," Todd explained. "I watch the show religiously. I like to sit on the couch, order take out food and enjoy the show with my kids."
Another interesting element of the show is that it keeps these iconic games in the public consciousness. For example, in Season 2, one of the games was Simon Flash, and Simon is not available in stores anymore outside of Travel Simon. Does Todd think the show plays a role in preserving the legacies of its titles?
"I think so," he said. "I think what's even more important to us is just keeping the concept of creating memories as a family together. These games, the reason they're so iconic is because so many families for so many years have enjoyed playing them together. It's a great opportunity for us as game lovers and as family folks to keep these games at the forefront."
Which Family Game Night game should we not challenge him to? "Never, ever step into the Bop It! Boptagon with me," he told us. Duly noted.
In addition to his work on the Hub series, Todd has a variety of other irons in the fire. "I just released another book called The Choice Is Yours. That's my second book. And I've been touring the country as the host of The Price is Right Live stage show. We've been having a great time with that," he revealed. "I'm keeping busy. I'm writing a lot, spending lots of good time with my kids, and keeping my game show host chops sharp."
He's won a Daytime Emmy for hosting Family Game Night, and it's not hard to see why. It's not simply that he can hit all his marks, or bring an unfathomable amount of energy to the show, but that he genuinely loves participating with these families and possibly changing their lives. "I've been doing TV for so long that my goal has shifted to 'How can I make this as interesting and as enjoyable for the viewer?' And I think I learned that from working with Bob Barker," Todd explained. "He taught me that as the host of the show, you're just the icing, you're not the whole cake.
"I watch constantly as to how I can let the contestants' personalities shine brighter, or how I can make the game more exciting. As long as people are enjoying it, that's all that matters."
Family Game Night has its season premiere tonight on The Hub.
(c)2013 Brittany Frederick. Appears at Starpulse with permission. All rights reserved. No reproduction permitted. Visit my official website and follow me on Twitter at @tvbrittanyf.