Todd Newton Previews Season 3 of The Hub's 'Family Game Night'
"I get to show up and play games I played as a kid myself," said Todd Newton, explaining his gig as the host of The Hub's hit game show Family Game Night, which is about to enter its third season. "We have the entire library of Hasbro at our disposal."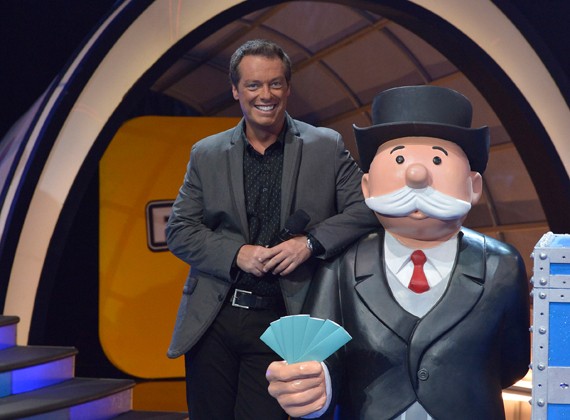 It's Newton's job to be the master of ceremonies as families take on a variety of Hasbro's catalog of games, including Monopoly, Operation, Connect Four, Bop It! and Guesstures. This season, FGN has added a version of Battleship to the roster. "Battleship is the new game that everyone's going to fall in love with," said Newton, who added that's not the only change to the show in season three. "This year we have as many as eight families in every show. I take new families out of the audience for every game we play. It gives viewers at home more people to root for [and] more people in the audience a chance to play."
What's Newton's favorite game from the lineup? "I love Bop It. I love it," he enthused. "I love Bop It at home - it's sitting on my kitchen counter - and I love the way we play it on the TV show. It's very physical, it's very energetic. I enjoy the marriage of the intensity and the concentration required in addition to running around."
He's a veteran when it comes to game show hosting, having started with Game Show Network's Hollywood Showdown in 1999 and moved on to all sorts of TV projects including Whammy: The All New Press Your Luck, the Home Shopping Network, and a live version of The Price Is Right at Bally's Las Vegas.
Like some of his colleagues (such as Figure It Out host Jeff Sutphen), Newton is not only a game show host. In addition to winning a Daytime Emmy as Outstanding Game Show Host for Family Game Night, he is also a certified life coach and keynote speaker, involved with a number of charitable causes, and recently released his first book, Life in the Bonus Round. You can find out about his entire portfolio by visiting ToddNewtonOnline.com.
Whether he's hosting a show, giving a speech, or working with the Michael J. Fox Foundation and Best Friends Animal Society, everything Newton does is motivated by a genuine desire to brighten the world around him.
"This year has been really wonderful for me," he said. "We shot the new season of Family Game Night; I believe it's the best season yet. I released my first book not too long ago. I get to travel the world as a keynote speaker. My work also allows me to spend a lot of time with my kids. The day-to-day is just enjoying every moment."
Yet even with the many lines on his resume, Newton has a certain fondness for his work on Family Game Night, calling himself a "game show guy" whose favorite hosts include Dick Clark and Richard Dawson. "I've had the good fortune of not really having to do a television job I wasn't really proud of," he explained, adding that the gig combines "my two favorite roles in life: that of being a father and that of being a game show host. I hope that reads through. We're just very grateful that people have let us into their homes."
"A lot of great things go into being a game show host," Newton confided. "I get the chance to be with complete strangers while they win life-changing sums of money. You can't beat that. Truly that's the great thing in the world, just being there in that moment and sharing that with them."
Family Game Night returns to The Hub tonight at 7 PM ET/4 PM PT.
You can follow Todd Newton on Twitter (@ToddNewton). For more from Brittany Frederick, visit Digital Airwaves and follow me on Twitter (@tvbrittanyf).
(c)2012 Brittany Frederick/Digital Airwaves. Appears at Starpulse with permission. All rights reserved. No reproduction permitted.