'Today Show' Host Savannah Guthrie Engaged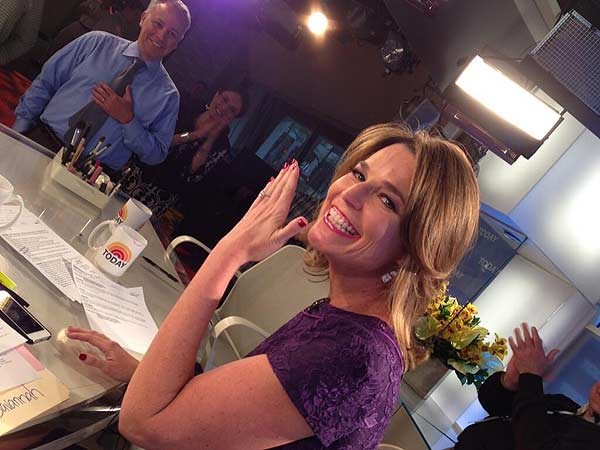 "Today Show" host Savannah Guthrie was engaged to her boyfriend of four years, political consultant Mike Feldman over the weekend.

The anchor, 41, revealed the happy news during Monday morning's show, revealing her new ring.

Co-host Matt Lauer broke the news on Twitter, sharing a photo of Savannah and her new hardware with the message, "Big news from Savannah!"
"Good for you and congratulations to Mr. Feldman," Lauer said on-air. "He's a great guy."

"I'm so excited!" Guthrie added. "He's the best person . . . And I know him so well too. We adore each other.

"Our families have been in-laws for years...they were just waiting for us to catch up!"

Al Roker also posted a photo of Guthrie on Instagram, writing, "@savannahguthrie and her engagement ring. Congrats to her and fiancé Mike Feldman."

Roker also shared a shot of Savannah with actor Bradley Cooper, one of the show's Monday guests. Cooper, promoting his latest film The Hangover Part III, brought her a dozen red roses and jokingly asked her for her phone number.

"@bradleycooper brings @savannahguthrie roses for her engagement," Roker writes.

Guthrie also thanked the well-wishers on Twitter.

"Overwhelmed at all these sweet, sweet wishes on Twitter. THANK YOU! I feel truly thankful and blessed," she wrote.