TMZ Bus Tour New York: See New York Celebrity Style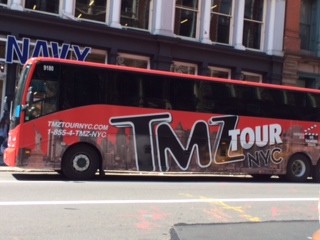 On May 2, I experienced one of the most popular tours in New York City, the TMZ Bus Tour, a hysterical spin-off tour based on the widely-successful entertainment tabloid TV show! I spoke with the tourists and our guide, Rob as I rode along to experience the adventure.
TMZ likes to call it the 'celebrity safari.' If you're a huge fan of the show, you'll already be familiar with the tour. It's all based on luck and timing whether you spot a celebrity. On this tour, we weren't so lucky and no celebrity wanted to be spotted that day! I guess it sucks being famous!
The tour began roaming through Times Square. We saw two 'naked cowboys' and crazy characters dressed as show girls but unfortunately, no celebrities in sight. One of the 'naked cowboys' deliberately made a rude inappropriate gesture right at our bus! It was hilarious!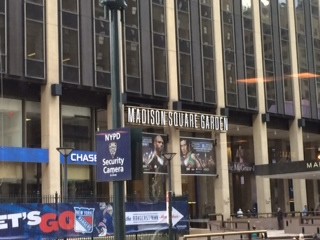 We passed Madison Square Garden which is expected to be gone in a year due to its loss on the lease. What a shame! That place is a landmark! We also passed the ABC-TV studios where Good Morning America (GMA) is filmed and CBS Studios where the news and other programs are taped. Many of the areas on the tour weren't anything I haven't witnessed before being a New York resident.
At some point in the near future, I would like to experience the TMZ Los Angeles tour next which will be part two of this story once I get out there. I'm more likely to spot celebrities in L.A. since that's where the majority of them live and work. I was hoping to possibly meet my favorite actor, Nicolas Cage since I heard he was in New York for his film premiere of 'Joe' which I reviewed on my previous blog, but no such luck on that one! One tourist thought she spotted Today show news anchor Matt Lauer; drinking coffee in a restaurant, but it wasn't him. It's usually a 'hit or miss' when it comes to spotting celebrities in New York. They prefer to go incognito. I was told that many celebrities recognize the TMZ bus and even sometimes bum a ride and come on board to meet and greet the passengers. That would have been amazing but it didn't happen! The TMZ bus is always on the look out for spotting them, they even rely on the passengers to do their dirty work and they get credit!
The tour proceeded to the Fashion District where we saw Parsons School of Design, the Meat Packing District, the Chelsea neighborhood where many stars live and also where the show 'Sex and the City' was filmed and Chelsea Market.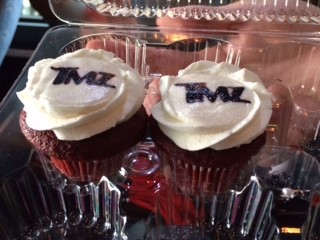 We got our 'sugar fix' with customized red velvet TMZ cupcakes that Rob passed out on the bus! They were delicious and a real treat! We later stopped in expensive Soho where we got to stroll around. The time we had to walk around Soho was very limited so I didn't stray too far from the bus. The vehicle is equipped with a video monitor and had quiz games for the tourists to partake in and some won a TMZ shirt. Photos were allowed but no video aboard the bus which was a comfortable coach-style bus, similar to what rock stars use for their tours and the type I usually see every day parked outside my favorite, friendly neighborhood hang out, The Capitol Theatre in Port Chester. I have seen and met several celebs there right in my own backyard!
For the conclusion of the tour, we headed toward Chelsea Piers and the Intrepid Museum near the cruise ship ports, the Tribeca area where the annual film festival is held established by actor, Robert DeNiro and Rob was telling us about that's where Law and Order is filmed and the different celebrity hang-outs including the Trump Soho Hotel. We were even given a 'celebrity hang-out' map during our break in Soho.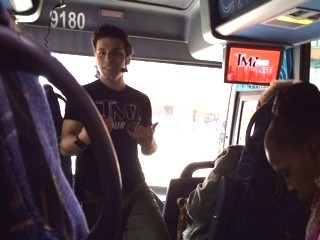 Our guide, Rob was very outgoing, friendly and amusing. He told us interesting tales on different celebrities like how Lady Gaga got her career started in New York, where Beyonce and Jay-Z live, where Chris Brown and Lindsay Lohan got into major trouble, etc. I won't reveal too much, so I'll let the tourists and the guide provide their input.
"It's so much fun to work for TMZ—it's such a crazy environment and the tour is fun because you not only get to meet people from all over the world as far as Australia, it's pretty crazy but we get to spot a lot of celebrities and bring them on the bus and now celebrities are starting to recognize the bus and they come right up to it; so it's just a really good time, we try to have fun no matter what if we see a celebrity or we don't but we arm people with spots to go to where they can see their favorite stars so it's a very cool tour!" explained Rob our guide. He added, "We can't guarantee a celebrity will be spotted but we rely on the people aboard the tour to look out the window and whenever someone thinks they see a celebrity we stop right away but that's why you got to come back because next time you might get lucky and spot your favorite star!"
Two tourists from Toronto, Canada were on board and commented on their experience.
"Love this tour! Highly recommend it! We saw parts of New York we never thought we would have seen and we learned things we never had any idea about! My daughter and I watch TMZ religiously and she said, "Mom, you have to do the tour" I wasn't sure about it at first but now I'm so thankful that we've done this tour!"
"I love it! I'm so glad I'm now a big fan of TMZ going to watch it for sure! We love our tour guide, Rob is awesome! It wasn't just entertainment which I expected about celebrities we actually learned a lot about the Fashion District and all the other areas of New York which were a complete surprise!"
One tourist from Detroit, Michigan said, "I think it's awesome! It's a great opportunity to get to see things you never get a chance to see that you could never do on your own if you're not from around here. I'm having a great time I'm a fan of the show and so is my niece. My favorite part was the Lindsay Lohan 'terror zone!' We did the Los Angeles bus tour which I also recommend."
For my first TMZ bus tour ever, it was an awesome experience and I will be back! Thanks to our guide, Rob and everyone at On Location Tours and TMZ for inviting me on board to report on my experience! Come along and join the fun! Hope to see you on the next TMZ Tour!
Here's the link to book your TMZ Tour:http://www.tmz.com/tour/nyc