TMI Invades The Lives Of 'The Real Housewives Of New Jersey'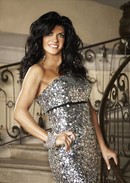 This week's episode of the Jersey Housewives explored innuendos, innocence insensitivity touching more nerves than one person can take.  One thing always seems to be a constant on the housewives series and tonight's episode was no exception as it focused on the never-ending Gorga-Guidice feud at Miliana's fifth birthday party and the a charity 5k run that got the whole cast involved leading to more drama adding fuel to the fire that has been ignited by the housewives themselves.
The episode begins with the whole cast gearing up for a charity 5K run. The run aimed at helping these housewives with one of their own "stupidity".  At the Laurita's we discover Jacqueline's motivation for the run to get hot for the group's trip to Punta Cana and not soon after say "do we really have to walk, can't we just give them money". Not only was that insensitive but also shows that their efforts were in vain and for public appearances and an event for the show. Let's see how what she'll actually do on race day.  Teresa has more on her mind than just looking fabulicious for the 5K she's planning one of her signature soiree's in honor of Milania's 5th party and wants to spread the news like wildfire.
On the day before the big "race" Teresa heads over to Jacqueline's where she and Caroline are hanging out chit-chatting and having a glass of wine.  Teresa says she came over to tell them that Milania's 5th birthday is right around the corner and she wanted to cordially give them a proper invite in person. It turns out however, that Teresa is there to vent and ask for her advice on the ongoing feud between her husband and brother.  Teresa tells the two she wants the Gorgas and Guidices together in the same room to make peace and get along but one wonders if it's because if Milania can't possibly enjoy her birthday but not having one more person fawn over her or give into her every whim. Ever the voice of reason and maybe not wanting to hear Teresa continue to drone on and on instructs her to call Melissa and invite her while the Jacqueline and Caroline so the lines of communication are not crossed but heard loud and clear.  Teresa calls Melissa and not surprisingly the call doesn't go well. 
The two exchanges past wrongs like the "christening" debacle and take other snide jabs at each other. Watching the two harp at each other, Caroline's face says it all she can't take much more of it neither can we Caroline. If you're going to kill each other just do it already why wait for the finale or reunion.  But alas, after a long drawn out bitch fest Melissa says of course the Gorgas will attend Milania's 5th birthday it's about family and burying this feud between Teresa and her brother.  The next day it's time for the day everyone's been waiting for the "infamous" 5K run.
The day begins with the Jersey gang less than enthused about the whole event. At the Wakile's Richie a.k.a " Mr. DickFace" as Juicy Joe Guidice likes to call him channels Mr. T and sports his heaviest chain to the race hoping that if he doesn't make it to the finish line that people will think he still got a medal.  At the Laurita's it seems to be Jacqueline's nightmare come true.
At the Laurita's Jacqueline seems to be more focused on fashion than fitness. She is donned in a playful Zebra hat and looks more like she going to walk a runway than run a 5K.  She then again asks husband Chris if she can just give the disabled money instead of actually having to move her legs. Why bother running with an attitude like that? Especially since a half-assed stroll for 50 minutes doesn't qualify as a run.  At the Guidice's Teresa is worried about a run of another kind.
At the Guidice's Teresa tells Joe she doesn't know if she could participate in the run because well she's got the runs. TMI Teresa! Joe's not so worried about that but more about packing snacks for the road to make it an event. He starts splitting sausage and drinking wine.  When the Manzo boys and sidekick Greg hear about the wine that share some laugh's at the Guidice's expense. Greg, provides entertainment for the group imitating Teresa says he's got an SAT prep book coming out called " Stupid Italian".
Everyone finally arrives and meets up at the race, is decked out in full leopard headgear, while Richie is decked out in a neon yellow vest. In true Jersey fashion, the whole group is late and gets their numbers just after the race has started but it doesn't seem to matter to the group who is there to make appearances and "gestures" of good will all while looking stylish and while displaying it's an "all about me" complex.
Joe Guidice's attempt at running ins waddling down the road, while Teresa tries to keep up a jog so she can keep up with appearances and out due the Wakiles who are her competition making herself  the center of attention once again.  Kathy's glassy eyed look makes her look frozen in time. Albie, Greg, Chris Manzo and Joe Gorga all see a chance to cheat and do with Albie coming up the victor.  All the running must have overheated Joe Gorga, when he makes Greg his new pet. Joe wraps his scarf around Greg's neck and declares him his "dog". Ok Joe whatever floats your boat. The Manzos and the Gorgas are having so much fun, that the Manzo's invite the Gorgas to their Hoboken pad.
Later the Gorgas head to Hoboken where "Joeboken" takes over. Melissa previews her new single for the guys who are speechless and not in a good way. Realizing they couldn't muster up enough enthusiasm pretending to like the tune, they do the next best thing when Christopher invites it to perform it at their launch party for Black Water. The excitement of the offer must have been too much for Joe Gorga because the next thing we know the groups in a club and things are getting crazy.
The Joeboken gang, is out the club, when Joe and Greg get a little too comfortable when a drunk Joe Gorga surprise, surprise demonstrates his mounting skills when he hops on a happy Greg's shoulders with Joey shouting " hide yo kids, hide yo wives" what a way to display that Jersey pride Joey.  Joe even invites his new pal to fondle his wife, and this time even she is appalled and is aghast.  Joey goes even further when he tells Greg Melissa is going to be his sister wife and he's feeling out the possibility of a threesome.  Joe than divulges the name of his little friend to which he calls "Tarzan" and makes the boys yell it from the rooftops. Can anyone say "Awkward".  Meanwhile at the Manzo's it's date night for Lauren and her beau Vito.
Vito thinks he has picked the perfect activity for the two, something he does everyday and wants to teach his girl. How to massage the mozzarella, showing her the process and making it together, Lauren references that it's just like Demi Moore and Patrick Swayze in Ghost. I'm pretty sure making Pottery and the " Righteous Brothers" were much more romantic than Marvin Gaye playing in the background while massaging cheese curds. The event is made further embarrassing and awkward by the fact that Lauren doesn't even want to eat or look at food because she is embarrassed by her weight. Pass the mozzarella because we're not done yet it's time for a Pizza Extravaganza Chuck E. Cheese has nothing on "princess" Milania's big day. After distinguishing Milania's fire-breathing ways after Teresa tells her she can't wear the dress she picked out Teresa finds her a crown gives into the "princess's" demands and all is well in the Guidice kingdom.
At the Guidice Pizzeria, whose local was chosen because it was cheap and virtually at no cost due to the family's financial troubles, everyone is assembled and ready to eat with one important part of the party missing. The make you want to gag Gorgas. While they wait the housewives rely on chitchat to get them through the wait.
Caroline and Kathy chat about their upcoming trip to Punta Cana, where Caroline says she's worried about what will happen on the trip, knowing all too well the chaos Teresa is capable of and Kathy agrees. The kids meanwhile are getting restless and declare mutiny banging on the table demanding pizza.  And finally just went it seems all hope is lost, Melissa and the Gorga crew sashay in to join the party and surprises are in store. While Joe Guidice gives Joey and Melissa the evil eye, Gia tells the crowd she has prepared a special surprise for her sister.  Gia then begins to sing an original song she wrote herself especially for Milania and the occasion. I can only call it the age song as it began " First you were 1, then you were 2"…and so on.  After a rousing applause from the crowd everybody is ready for more pizza and cake but Gia isn't done yet. The tyke surprises the crowd with yet another ditty she wrote for her uncle Joe and mother.  She begins by singing " Waking up in the morning" before breaking down in tears. This is heart breaking to watch for everyone and even though Gia manages to get through her song she breaks down again soon after.  After the brother and sister pair try to console the tyke by telling her they love each other putting on a fake display of affection, Gia calls them on it and says " to start acting like it".  The Gorga/Guidice group try at least fake a display of affection with in a Juicy Joe/Joe Gorga sandwich.  Caroline hopes this is a new beginning and a wake up call in their feud to end things once and for all.  Tune in next week to see if Milania invokes havoc on the group for invading her tube time, if Ashley will ever get it together and if a change of scenery will be a change of attitude when the group heads to Punta Cana.