Tiya Sircar Talks About Landing 'The Internship'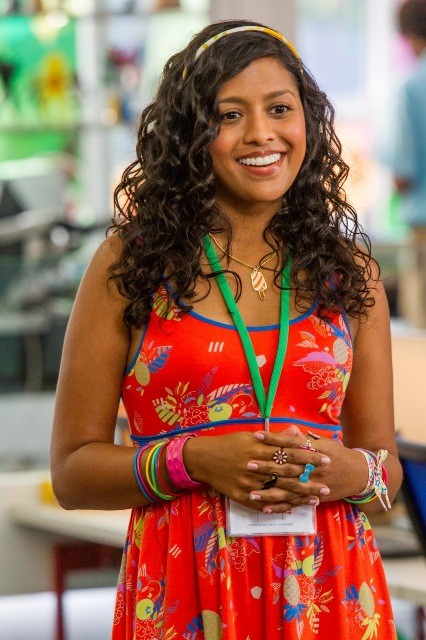 With The Internship now available on unrated Blu-Ray and DVD, BFTV recently snagged a few minutes with one of the comedy's supporting cast members. Tiya Sircar plays Neha Patel, one of the Google interns who works alongside Billy McMahon (Vince Vaughn) and Nick Campbell (Owen Wilson) as they all hope to land jobs at the tech giant. She chatted with us about what it was like to share the set with the two hilarious stars, and how sharp her own technology skills are.
As "the only female member of the team of Google interns comprised of Vince Vaughn, Owen Wilson, Dylan O'Brien and Tobit Raphael, led by Josh Brener," Tiya explained, "Neha is whip-smart, highly educated and accomplished but she lacks life experience, you might say. She's spunky, has a pretty colorful vocabulary and imagination and a rather eclectic sense of style - crazy patterned socks, wacky jewelry, et cetera."
"Every single day on set was an adventure in comedy," she confided. "I spent much of my time trying not to break character in a scene and just erupt into laughter at something one of the guys said! What surprised me was how much freedom we had to ad-lib and improvise during takes. Shawn Levy, the director, not only allowed but encouraged us to take risks and come up with our own jokes if we felt so compelled."
"I had an absolute ball making this movie, so it's hard to narrow down a favorite scene," Tiya added, "but I will say there's a deleted scene that's on the DVD extras, where I not only get to fulfill my character Neha's dream of dressing up as Slave Girl Leia at a cosplay party, but I got to act with Vince Vaughn, Owen Wilson and Will Ferrell, which was a surreal experience. It was incredible to watch the three of them riff off each other and come up with hilarious lines on the fly!"
Considering that she plays an aspiring intern at one of the country's biggest tech companies, we asked Tiya to evaluate her own technological proficiency. "I'd like to think I'm a pretty tech-savvy person," she said. "I can't really function without my iPhone. And I spend far too much time online - Facebook, Twitter, Google, Wikipedia, online shopping..."
"I really loved playing a confident, intelligent, funny female character in a movie full of hilarious males. I appreciate Neha's strength and desire to excel," Tiya added. "And as far as something I'll remember, this was the experience of a lifetime! I hope to remember all of it! I am especially grateful to have made such good friends with my co-stars - Josh, Tobit, Dylan, Jessica Szohr. I'm so glad we've remained friends after filming."
She has since moved on to new projects, and told us some of her favorites from the past as well as what's ahead in the future. "I really enjoyed working on 17 Again, starring Zac Efron, and you can catch me as recurring character Aimee Bradley, in the CW's The Vampire Diaries season two," she told us.
"I'm playing a recurring character, Amy Matthews, on Lifetime's new show Witches of East End. I'll be in every episode that airs in the month of November! I'm also currently filming an indie comedy called Miss India America. I play the lead, which is very exciting, and the film has a fantastic script and wonderful cast, which includes Hannah Simone from New Girl."
When Tiya's not acting, she's also passionate about a number of causes. "I care deeply about environmental protection, wildlife conservation and animal rights," she told us. "Organizations that I support include World Wildlife Fund, Natural Resources Defense Council, and The Humane Society. I also feel strongly about taking steps to reduce one's own carbon footprint. You can visit sites like ClimatePath.org and CarbonFund.org to learn more."
The Internship is now available on Blu-Ray and DVD.
(c)2013 Brittany Frederick. Appears at Starpulse with permission. All rights reserved. No reproduction permitted. Visit my official website and follow me on Twitter at @tvbrittanyf.