TiVo Stream [REVIEW]: Highly Recommended… With Caveats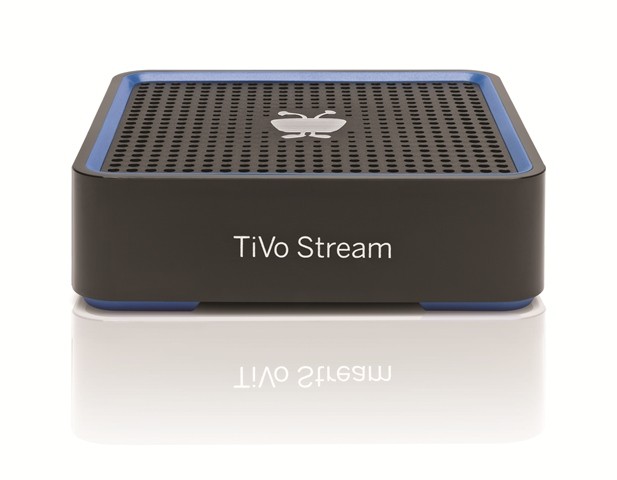 If you could watch your TiVoed shows on your iPhone or your iPad during your commute or on a plane ride... what would that be worth to you? Put money aside for a second. What kind of tech hiccups and issues would you put aside for the happiness you might feel when it works?
That's what you have to decide before purchasing the new TiVo Stream. Once hooked up, the little box which can fit into the palm of your hand, allows you to either stream TiVoed shows to your iOS devices when you're in your home or apartment over your WiFi network.  Or you can download them to either device for later viewing.
If you were using a WiFi adapter with your TiVo Premiere before, you're going to have to wave goodbye to it to use the TiVo Stream. Both the Premiere and Stream need to be hooked up via Ethernet to the same router. (Different wired routers on the same network will not work as I learned.)
Set-up is fairly simple if you have patience. Make sure you have the latest version of the TiVo app installed on your iOS device and it should recognize that you have installed a TiVo Stream. If not, go into the Settings section of the app and tell it you want to use one.
From beginning to end, set-up can take a whopping twenty minutes because firmware will likely need to be updated. But luckily you don't need to do anything.
You do, however, need to keep the app open AND in the foreground. The same rule applies once you're downloading shows. You cannot download shows in the background, though you luckily can queue up multiple ones at the same time. But once you start deciding you want to download at least one thing, say goodbye to your iOS device until it's done. (You also may want it plugged in and charging while its downloading.)
One other thing to consider. iOS 6 is awfully buggy and app crashes are more frequent. So if the TiVo app crashes in the middle of the download, you will want to delete what was downloaded and restart it. Otherwise, you'll likely have a video that skips and/or freezes during playback.
Downloading is fairly quick and will depend on the speed of your network. In the past, you used to be able to download TiVo shows to devices like the PlayStation PSP. It would download in real-time, so if your show was an hour, it took an hour to download. With TiVo Stream, I found you needed about ten minutes for a half hour show and anywhere between twenty and thirty for an hour show. (But my WiFi network is pretty slow.)
Watching downloaded shows was a dream. The auto thirty second skip was faster and more responsive than when you were watching on your TiVo at home. The UI is also pleasant while non-intrusive. It was easy to pull up the show's episode info, for instance.
Streaming over the WiFi in my apartment wasn't as useful to me personally as downloading shows for my commute. I'm guessing that functionality is for people that want to watch their TiVoed shows while someone else in the house is watching something else on the main TV.
My TiVo Stream would frequently lose connection to the Premiere. Sometimes it would be fixed by hitting the Troubleshooting button that would pop up on the app—it would then usually resolve itself in about three minutes. Other times, I needed to power cycle my TiVo Stream and router before hitting that Troubleshooting button. Easiest way to tell if your TiVo Stream is going to work is if the light on the back of the unit is a solid white color.
For those that watch a lot of TV and want to catch up on TiVoed shows on the go, I can't recommend the TiVo Stream enough. But I recommend it with a lot of caveats. I certainly found myself annoyed that I had to use Ethernet cables on both the Stream and Premiere. And the fact that the app must remain in the foreground when downloading is almost a deal breaker.
But watching Last Resort on my commute in the morning? It seems pretty worth it for what at the end of the day, seems like a Beta product. But an awfully good one at that.
TiVo Stream costs $129.99 and you can learn more at TiVo.com.
* Full disclosure: A TiVo Stream was provided to the writer for the purposes of this review. *