'Titanic' Documentaries Feature James Cameron & Bob Ballard On Nat Geo Channel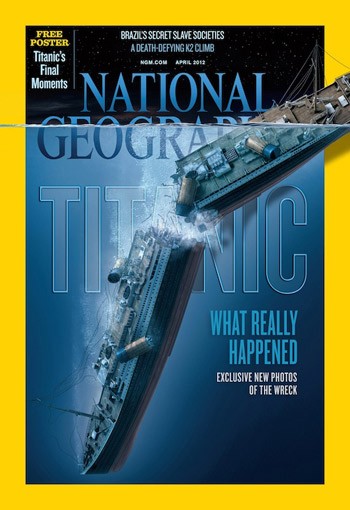 This April marks the 100-year anniversary of the sinking of the Titanic, and National Geographic is commemorating the anniversary with two of the world's leading explorers, James Cameron and Bob Ballard.

Check out a two-night world premiere event on April 8 and 9 on National Geographic Channel featuring "Titanic: The Final Word with James Cameron." Oscar-winning filmmaker and National Geographic Explorer-In-Residence James Cameron leads the ultimate cold-case investigation into the tragedy.
"Save the Titanic with Bob Ballard" features National Geographic Explorer-in-Residence Dr. Robert Ballard as he retraces Titanic's beginnings and examines the ship's original plans — never before filmed — to reveal untold stories of Titanic's heroes and the unwritten story of Titanic's future.
    
Also, a new cover story in National Geographic Magazine by Hampton Sides documents how new technologies have revealed the most complete — and most intimate — images of the famous wreck, as well as a personal essay by James Cameron, in which he reflects on his "out-of-body"-like experiences exploring the ship, deck by deck and room by room, as he guided a tiny remotely operated vehicle within the Titanic's labyrinthine interior from a submersible resting on the ship's upper deck.

The two-night Titanic event starts Sunday, April 8 at 8 pm ET/PT on NGC.  To learn more about the Titanic, check out the latest issue of National Geographic Magazine and board the "Ship of Dreams" in the Adventure on the Titanic game.