'Tis The Season For D-List Celebs To Be Charged With Manslaughter, Get Life In Prison & Face 20 Years For Drug Charges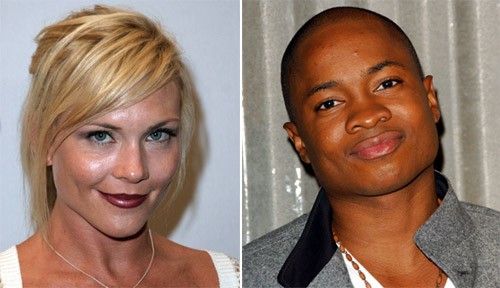 Former "Melrose Place" actress Amy Locane has been indicted on charges of aggravated manslaughter and assault by automobile after she was involved in a fatal car crash earlier this year.
 
The star, who also appeared opposite Johnny Depp in "Cry-Baby," was driving in Montgomery, New Jersey in June when she struck another vehicle as it turned into a driveway.
 
Helene Seeman, a passenger in the front seat of the other car, was pronounced dead at the scene, while the driver, Fred Seeman, was airlifted to a nearby hospital with serious injuries.
 
Locane confessed to police she had had several glasses of wine before getting behind the wheel, reports TMZ.com.
 
She was formally charged by a grand jury in Somerset County on Thursday afternoon.
 
However, her attorney Blair Zwillman has vowed to challenge the aggravated manslaughter count, insisting: "I don't believe it is supported by the law or the facts and I think it constitutes over-reaching by the prosecutor's office."
 
If convicted, the actress faces a maximum of 30 years for the manslaughter charge and up to 10 years for the assault by auto count.

Shelley Malil Gets Life Sentence For Vicious Stabbing
 
Actor Shelley Malil has been sentenced to life imprisonment after he was convicted for the attempted murder of his ex-girlfriend.
 
"The 40-Year-Old Virgin" star was found guilty of viciously stabbing Kendra Beebe after a three-week trial in September.
 
Malil claimed he had never intended to hurt Beebe and had acted in self defence when he lashed out in the dark during the incident in 2008, stabbing her more than 20 times.
 
He told the jury at California's San Diego County Superior Court that he thought he was being attacked from behind following a bust-up with Beebe's pal David Maldonado.
 
He was also found guilty on a charge of assault with a deadly weapon.
 
Malil, 45, was sentenced in court on Thursday when Judge Harry Eilas ordered him to serve life behind bars, with the possibility of parole in nine years' time.

"Smallville" Actor Facing 20 Years For Drug Charge

Actor Sam Jones III is facing up to 20 years behind bars after pleading guilty to conspiracy to supply drugs.
 
The former "Smallville" star entered the plea in Los Angeles federal court on Thursday.
 
The count stems from his arrest at his Canoga Park, California home last year, when he was busted for his involvement in a drug ring, which saw the gang allegedly attempt to sell more than 10,000 oxycodone pills - a painkiller known as "hillbilly heroin."
 
The 27 year old will be sentenced in June, reports Eonline.com.