T.I.'s Lawyer Refused Prison Appeal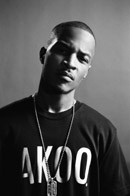 Troubled rapper T.I.'s lawyer has been denied the chance to appeal his client's additional prison time.

The hip-hop star, real name Clifford Harris, Jr., was placed back behind bars earlier this month, just one day after he walked free from an Arkansas incarceration facility, having served 10 months of an 11-month sentence for a probation violation.

Authorities were unhappy with the fact that T.I. had allegedly been discussing business matters with his manager and two producers from TV network VH1 on his private bus journey to a halfway house in his native Georgia, where he was due to spend the final days of his punishment, and he was re-jailed over the issue.

A lawyer for T.I., who is expected to remain in prison until September 29, has been attempting to challenge the decision, and appealed to officials at the Federal Bureau of Prisons to gain access to the review hearings so he can help his client.

But the attorney was notified on Monday that T.I. was "not entitled to legal counsel" during the review process.

According to TMZ.com, the rapper has already attended two court hearings without legal representation.